Final Four: Travis Trice dribbles Tyus Jones right to the floor (Video)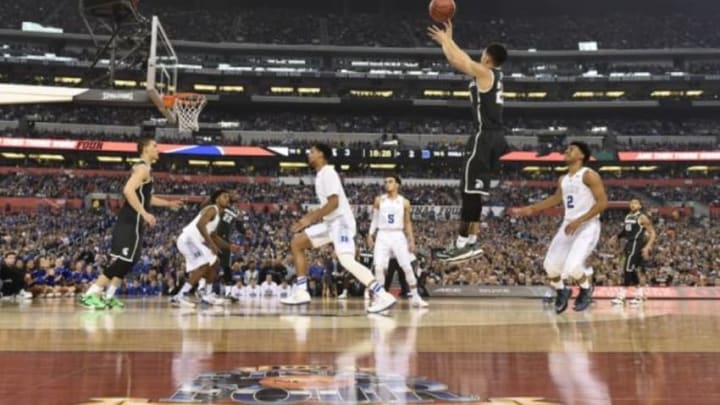 Apr 4, 2015; Indianapolis, IN, USA; Michigan State Spartans guard Travis Trice (20) shoots a three-point shot over Duke Blue Devils guard Quinn Cook (2) in the first half of the 2015 NCAA Men /
Michigan State's Travis Trice was out again at the Final Four showing that he's a magician with the ball in his hands
More from March Madness
Very few people will argue that Travis Trice has been a key part of this Michigan State Final Four run that has landed them in Indianapolis on Saturday playing against the Duke Blue Devils, as he has been playing some of his best basketball all year here down the stretch. Early on in the game Saturday night, he was showing that he's not missing a beat now that he's on the big stage.
Michigan State got off to a pretty fast start in this one, something that they needed to get done, and Trice had a lot to do with that. While he was knocking down threes, his best play may have come when he had the ball in his hands dribbling.
At one point early in the contest, watch below as he just plain and simple puts Duke's Tyus Jones right to the Indianapolis floor with his dribbling skills.

Cook never stood a chance guarding Trice, and if they can't get it together, the Blue Devils might be in trouble if Trice is really able to let loose.
More from FanSided