NFL Draft Rumors: Todd Gurley to be selected before Melvin Gordon?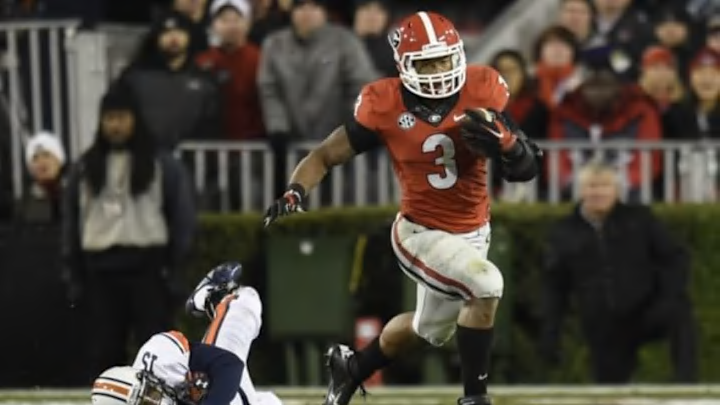 Nov 15, 2014; Athens, GA, USA; Georgia Bulldogs running back Todd Gurley (3) breaks a tackle by Auburn Tigers defensive back Joshua Holsey (15) during the second half at Sanford Stadium. Georgia defeated Auburn 34-7. Mandatory Credit: Dale Zanine-USA TODAY Sports /
NFL teams are reportedly beginning to be of the belief that Todd Gurley will be taken ahead of Melvin Gordon in the upcoming NFL Draft
---
The running back position in the NFL has been somewhat devalued in recent years, making it very hard for some of the best running backs coming out of college to be first-round selections. However, this year is a little different because most see Georgia's Todd Gurley and Wisconsin's Melvin Gordon as too good to pass up within the first 32 picks, despite what anyone thinks of the position lately.
More from NFL
Now there may have been a time last season where some would consider it a lock that Gurley would be selected before Gordon, however the torn ACL that Gurley suffered late last season may have made it a lock that Gordon will be the one selected ahead of his Bulldogs counterpart.
Or did it?
According to Yahoo's Rand Getlin, the belief among teams in the NFL is that, despite the recovery that Gurley is still going through, he'll ultimately be off the board before Gordon.

What has helped Gurley throughout this whole process is the fact that there have really been no setbacks in the rehab process, which would lead teams to believe that he'll eventually be back stronger and faster than ever. While not to take anything away from Gordon, who rushed for over 400 yards last season in just three quarters, Gurley is seen as a more powerful runner, making the chances for longevity at the position that much better.
Before suffering the knee injury last year, Gurley was outstanding for Georgia once again, rushing for 911 yards on 123 carries with nine touchdowns. This was also done while splitting time with about three other backs on the roster for the Bulldogs.
A full season under his belt last year, Gordon rushed for 2,587 yards on 343 carries with an astounding 29 touchdowns. He was also named as one of the three Heisman finalists along with Marcus Mariota and Amari Cooper.
Time will tell which one of these two outstanding rushers will be the first off the board, but there's a pretty safe bet that two teams will be getting a couple of the best running backs to come out of the college game in quite a while.
More from FanSided