Patrick Reed hits hole in one, races caddie to green (Video)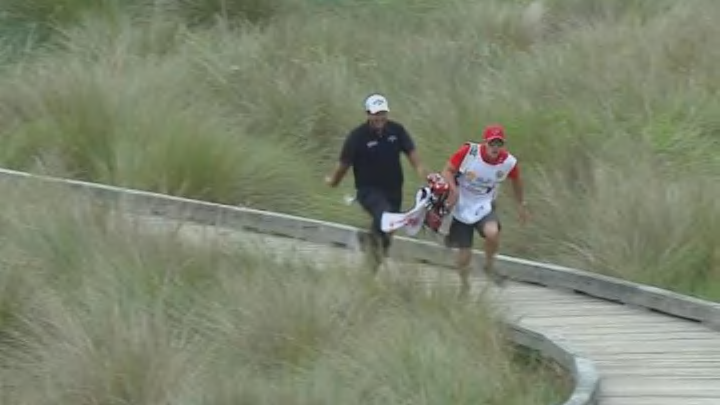 American golfer Patrick Reed hit a hole in one at the Shell Houston Open Saturday and then raced his caddie to the green.
---
More from Golf
Patrick Reed has had a great season on the PGA Tour this year, picking back up from where he left off last year after finishing 21st in the FedEx Cup standings with two victories.
This year, Reed already has one win and three top-10's and is fourth in the FedEx Cup standings and has moved up to 15th in the World Golf Rankings thanks to his great play.
This week, Reed is playing in the Shell Houston Open and he's having a great day Saturday in the third round mainly thanks to his ace on hole 16 (after starting on the back nine).
On the 178 yard par 3, Reed took a five iron into the wind and hit it high and got it to just hit the front fringe, take a big hop and roll straight into the hole for an ace.
As Reed's shot looked like it was headed right for the hole you could hear the crowd pick up in excitement and has it dropped you got the kind of cheering you love to hear in golf.
The hole in one, however, maybe wasn't even the best part of it all. Once Reed and his caddie Kessler Karain got to the bridge to walk over to the green, Reed began chasing down his caddie and they raced to the green. Reed came from behind and had a chance at winning the race, but Karain was speedy even with the golf bag and beat out the heavier Reed. Kudos to Reed and Karain for keeping the gallery entertained not just with great golf shots, but having fun between shots as well.
Patrick Reed will compete in the Masters next week and with his solid play this year, he'll be one of the favorites coming into the first round and don't be surprised if Reed, with his great scrambling and putting, finds himself on the top of the leaderboard at some point during the tournament.
Reed is currently 4-under par through 13 holes in Saturday's round, putting him at 9-under for the tournament and tied for 14th.
More from FanSided