Boston Celtics are selling playoff tickets before they officially clinch berth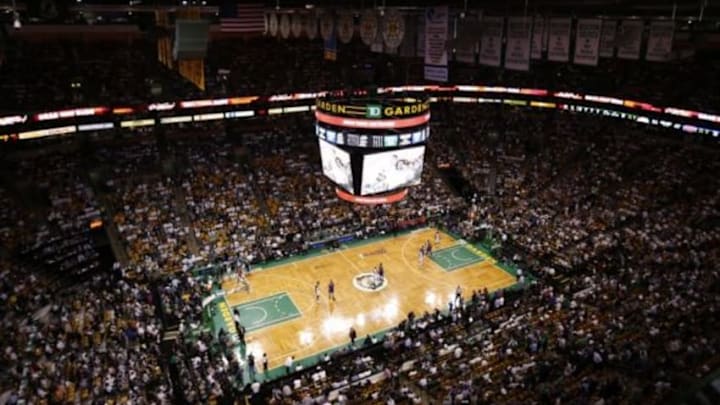 Apr 26, 2013; Boston, MA, USA; A general view of TD Garden prior to game three of the first round of the 2013 NBA playoffs between the Boston Celtics and the New York Knicks. Mandatory Credit: Mark L. Baer-USA TODAY Sports /
The Boston Celtics are going to begin selling playoff tickets, even though they haven't clinched a spot in the post season yet
---
The 2014-15 NBA playoffs start is less than two weeks, and the Boston Celtics still haven't officially received their invitation.
More from Boston Celtics
Coming into this season, most people would have thought that the Celtics were going to be one of the teams tanking for a high draft pick while thinking of their future – but things aren't always as they seem. They traded their best two players coming into the season – Rajon Rondo and Jeff Green – but they added Isaiah Thomas at the trade deadline and have simply played well as a team (kudos to Brad Stevens).
Boston still has a losing record, but a team can still crawl into the Eastern conference playoffs with a sub-.500 record. They are currently 35-42, and the scary thing for them is that there are three other teams – Indiana, Miami and Charlotte – who have just one less loss than they do. Of course their future is in their own hands, but one little slip up could cost them a postseason bid. However, on the positive side of things, they are only a single game back from the 7-seed and three games back from the 6-seed.
So who knows, many things can go perfect for the Celtics and they will seed as high as six (just seems so doubtful).
It would be nice if things were easy the rest of the way for Boston, but their remaining regular season schedule is actually very tough: at Detroit, at Cleveland, vs. Cleveland, vs. Toronto and at Milwaukee. That is a tough, tough run to end the year. It actually doesn't seem crazy to think the Celtics could lose all of those games and miss the playoffs.
But the Celtics aren't thinking that negatively (and maybe a lot of their fans aren't either), because the official website of the Boston Celtics posted today that playoff tickets will go on sale starting tomorrow at 11 a.m. eastern time.
Now that's a bold move.
Not to rain on Boston's parade, but making the playoffs might not even be that enjoyable for them. The most likely way they get a postseason berth is by snagging the final spot, and that would mean they would have to play the Atlanta Hawks in the first round of the playoffs. I don't think the team's website would put up second round tickets for sale during that series.
More from FanSided