Roy Williams bought a seat to the NCAA Championship game for Bo Ryan's deceased father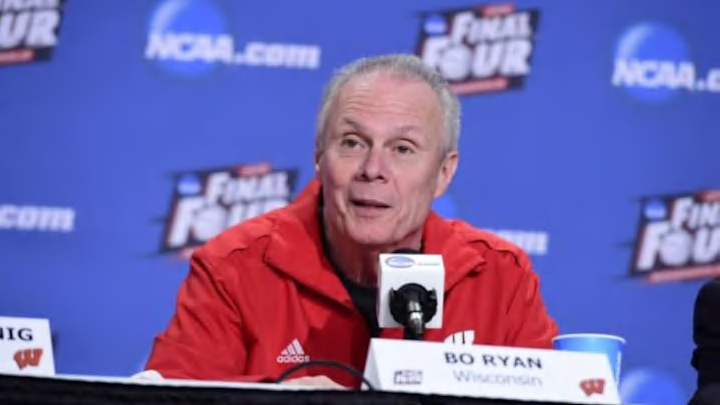 Apr 5, 2015; Indianapolis, IN, USA; Wisconsin Badgers head coach Bo Ryan during the Wisconsin press conference at Lucas Oil Stadium. Mandatory Credit: Bob Donnan-USA TODAY Sports /
Roy Williams dedicated a seat at tonight's NCAA Championship game to Butch Ryan, deceased father of Wisonsin Badger's head coach Bo Ryan.
---
Roy Williams, head coach of the North Carolina Tar Heels, has donated a seat at tonight's NCAA Championship game in memory of the deceased father of Wisconsin Badgers' head coach, Bo Ryan. While the Badgers and Duke Blue Devils clash on the court, seat 13 of row A in section 140 will remain empty.
The Wisconsin Badgers announced the donation via twitter earlier today.

This has to mean a lot to Coah Ryan. It is never easy to lose a parent. Reportedly, Butch Ryan would "accompany his son to the Final Four and steal the show with his storytelling in the hotel lobby." To have such an electric and important presence in one's life vanish must bring with it a pain beyond words. It speaks to the effect Butch Ryan would have on those he met that a coach from another team would donate a seat at the NCAA Championship game in his honor.
With the madness of March coming to a head, it is easy to forget the weight of emotions involved. At its core, when you take away the bracket pools and statistical analysis, college basketball is about to teams of college kids fighting to achieve glory. When they don't make it to the top they are completely crushed and often times cry as the game comes to an unfavorable close.
This brings even more meaning to Roy Williams' gesture. He thought of more than just the sport of basketball. He thought of how Coach Bo Ryan must be feeling with not only the pressure of fighting to win a championship, but also the sense of loss associated with his father's absence. It must give Coach Ryan some sort of comfort knowing that his father was loved and revered by so many that knew him.
Only one team will be cutting down that net at the end of the game. There can only be one winner. But no matter what the outcome of tonight's game, Bo Ryan can go to bed tonight knowing that although that seat in section 140 was empty, the hearts of those his father touched were anything but.
More from FanSided