Dodgers ride clutch Jimmy Rollins home run to beat Padres 6-3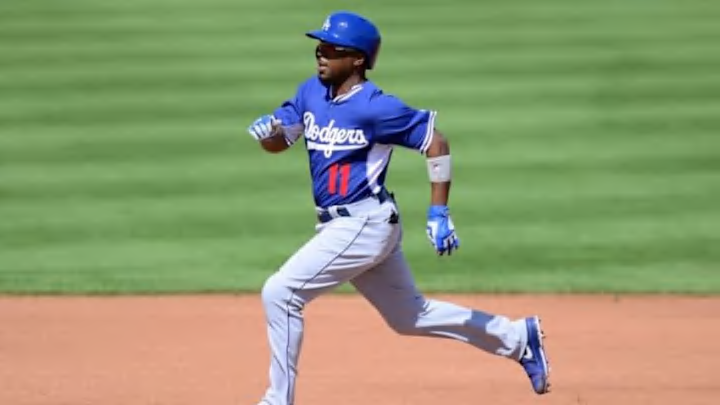 Mar 9, 2015; Scottsdale, AZ, USA; Los Angeles Dodgers shortstop Jimmy Rollins (11) runs the bases en route to a triple against the San Francisco Giants during a spring training baseball game at Scottsdale Stadium. Mandatory Credit: Joe Camporeale-USA TODAY Sports /
The Los Angeles Dodgers got a 3-run home run from Jimmy Rollins in the 8th inning to lead the team to the win over the San Diego Padres on opening day.
---
The San Diego Padres visited the Los Angeles Dodgers on Monday afternoon to open up baseball for the season. The Padres are a new look team after all their acquisitions this season and had James Shields take the mound for the day. The Dodgers had Clayton Kershaw as their opening day starter.
More from Los Angeles Dodgers
Both starting pitchers did well going 6 strong innings in the game and the game was decided by the bullpen. The San Diego Padres bullpen was given the lead going into the 7th inning, but they were unable to hold the lead and then gave up the 3-run home run to Jimmy Rollins to give up the lead.
Game Notes:
The San Diego Padres acquired P Craig Kimbrel in a trade and he arrived in time for the game
Padres OF Matt Kemp drew some cheers and some boos from the crowd when he was introduced in front of his former stadium.
Padres Wil Myers stole his first base of the season in the top of the 1st inning
Padres Matt Kemp started the game with an RBI in the first inning to bring in Wil Myers.
Former San Diego Padres 1B Adrian Gonzalez hit a homer run in the bottom of the 4th for the Los Angeles Dodgers to tie the game at 1-1
Dodgers 2B Howie Kendrick followed the home run with a triple. Wil Myers played the ball poorly to allow the triple and he scored a run
Dodgers OF Carl Crawford followed with a double to break the tie and put the Dodgers up 2-1
Padres OF Matt Kemp doubled in a pair of runs in the 5th inning to haunt his former team even more to give the Padres a 3-2 lead at the top of the 5th inning
Vin Scully was back calling games with great lines like "sounds like he hit it with a bunch of celery"
Padres P James Shields pounded his chest and roared after striking out a pair of batters in the 6th innings. 8 strikeouts though 6 innings
Shields opening day line was 6IP, 6H, 2ER, 2BB, 8k, 95 pitches and a no decision
Dodgers Howie Kendrick hit an RBI double in the 7th to tie the game at 3-3
The cheers turned into boos for Matt Kemp when he stepped up in the 8th inning after 3 RBI vs former team
Dodgers C A.J. Ellis failed to put down a bunt to move the go-ahead run to 2nd in the 8th
Padres infield error kept inning alive. Yonder Alonso could not field the ball cleanly and P Shawn Kelley was not able to find the base
Dodgers SS Jimmy Rollins broke the tie in the 8th with a 3-run homerun
More from FanSided