Oakland Raiders having fun as Derek Carr crashes Khalil Mack Presser (Video)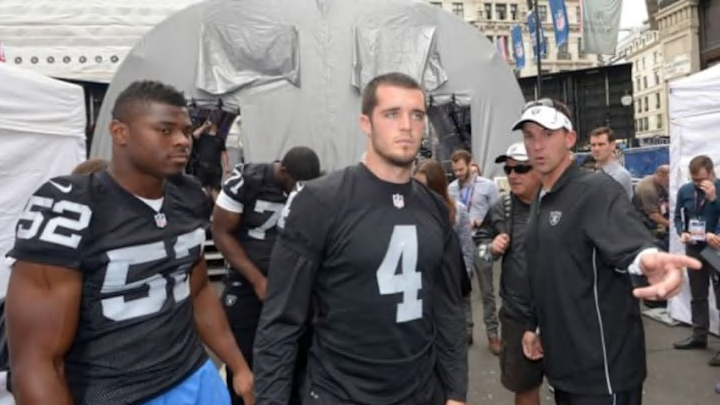 Sep 27, 2014; London, UNITED KINGDOM; Oakland Raiders linebacker Khalil Mack (52), quarterback Derek Carr (4) and coach Dennis Allen at NFL on Regent Street in advance of the International Series game between the Miami Dolphins and the Raiders. Mandatory Credit: Kirby Lee-USA TODAY Sports /
It seems like the Oakland Raiders are already getting loose as QB Derek Carr calls out LB Khalil Mack, challenges him to a 'who's faster?' debate.
---
As we all know by now, the Oakland Raiders are not one of the best teams in the NFL. In fact, at 3-13, Oakland was one of the worst teams to take the field in the league last season — and have been such for the past few years.
More from Las Vegas Raiders
However, with young guys in place like talented rookie linebacker Khalil Mack and starting quarterback and first-year NFL player Derek Carr, this team has a bright future even if the present seems a bit dull.
Last year, Mack had a combined 75 tackles and 4.0 sacks after being selected No. 5 overall by the Raiders in the first round while Carr threw for 3,270 yards and 21 touchdowns as the Raiders' second-round pick.
These two guys make up the organization's hope for upcoming years, and deservedly so. Another thing these two players like to do is joke around with each other, as evidenced by Mack's recent presser in which Carr hilariously crashed.
Mack was asked who was faster, him or Carr, while the young quarterback shouted from the back of the room, "We're going to find out tomorrow."
You can tell these guys really enjoy being around each other and like Mack was stating before Carr intervened, the locker room is becoming more of a family. This team may not be a big threat for any titles now, but don't count them out a couple years down the line.
More from FanSided