Patrick Peterson reveals he is battling diabetes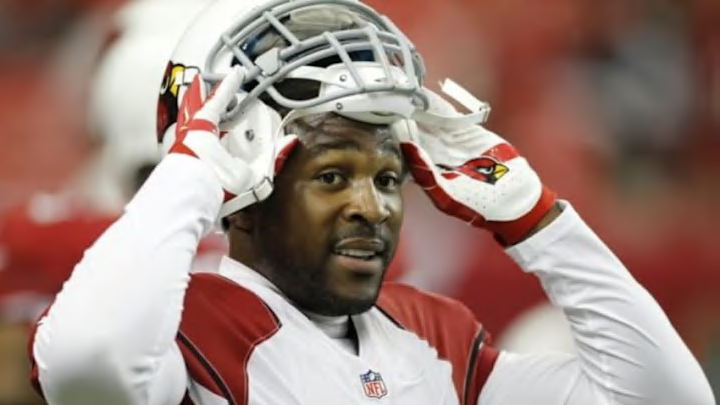 Nov 30, 2014; Atlanta, GA, USA; Arizona Cardinals cornerback Patrick Peterson (21) prepares for a game against the Atlanta Falcons at the Georgia Dome. Mandatory Credit: Brett Davis-USA TODAY Sports /
Patrick Peterson of the Arizona Cardinals confirmed the severity of his ongoing blood sugar problems, admitting today that he is diabetic.
More from Arizona Cardinals
When Arizona Cardinals head coach Bruce Arians announced that a blood sugar issue affected Patrick Peterson early in the 2014 season, there was little news surrounding his comments, as the organization refused to go into detail. The Pro Bowl cornerback and former return specialist confirmed the severity of the problem earlier today, however, admitting that he is diabetic.
In an interview with The Arizona Republic, Peterson at first declined to go into detail on the matter, but eventually gave a very brief confirmation that he is in fact diabetic.
While this a dangerous matter by all accounts, the important thing is that Peterson and the organization are taking the proper steps to address the disease.
""No question it made a big difference [last season] and once they found out what the problem was, they put their hands around the throat, wrangled it and we moved forward from it.""
Peterson's admission has, without a doubt, sent shockwaves through the NFL, but do not expect it to hold him back going forward. It appears that the organization has attacked the issue, and as noted earlier, Peterson already battled through the disease last year. The disease did not seem to affect him too much, although it was just the second time in his four seasons in the league that he was not named First Team All-Pro.
If Peterson is able to control the issue, something he looks to be on top of already, expect him to be right back in the All-Pro discussion. Diabetes has not stopped Chicago Bears quarterback Jay Cutler from being a successful pro, and I do not expect it to hinder one of the top cornerbacks in the NFL.
Despite struggling with the condition early in the season, Peterson was able to bounce back for one of the best seasons of his career. In addition to finishing the year with 48 tackles, three interceptions, one touchdown and seven pass deflections, he also led the Cardinals to the playoffs for the first time since he entered the league in 2011.
Peterson's steadfast manner in addressing his diabetes, as well as the team doctors' success in locating the problem quickly, provides a promising outlook for the leader of the Cardinals' defensive backfield.
Do not be surprised if Peterson returns to an All-Pro level and the Cardinals return to the playoffs in 2015.
More from FanSided