Cubs fans can go to the bathroom thanks to portable toilets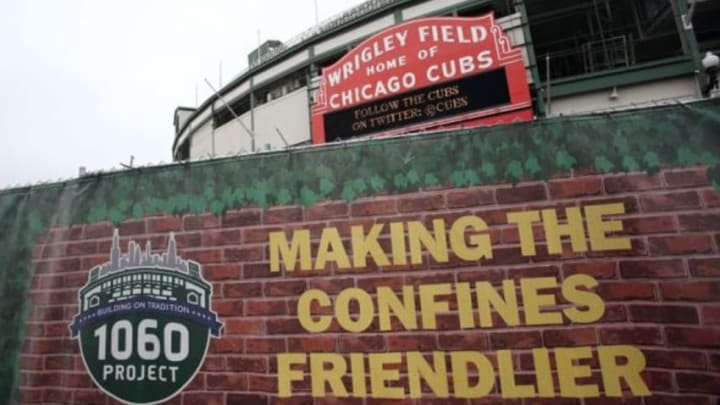 Mar 25, 2015; Chicago, IL, USA; A general view as construction and renovation work continues at Wrigley Field in advance of the MLB baseball season opener. Mandatory Credit: Jerry Lai-USA TODAY Sports /
Wrigley Field's continued renovations caused some problems for fans who simply wanted to use the restroom at the Chicago Cubs game on Opening Night but help is on the way. 
---
Opening Night did not go as planned for the Cubs who lost to the St. Louis Cardinals and looked sloppy in the process as they lost 3-0 to their rivals.
More from Chicago Cubs
It wasn't just a sloppy day for the on-field product, although John Lester wasn't sharp and the Cubs stranded far too many runners on base, but the ongoing renovations at Wrigley Field caused some serious headaches for the fans taking in the first game of the MLB season.
The outfield bleachers are months away from being completed and that was an expected inconvenience, but what wasn't expected was the nightmare situation that fans found themselves in when they tried to use the bathroom.
Upper deck bathrooms had to be closed, forcing fans to converge on the only functional bathrooms on the lower level and resulted in lines that had people waiting an hour to empty their bladder after drinking some $7.50 Old Style's.
The Cubs issued an apology on Monday after some fans had to use plastic cups to relieve themselves because the lines were too long and they didn't want to head back to their seats after peeing in their pants. Thankfully, relief is on the way to 1060 W. Addison where 74 portable toilets are lined up outside the bathrooms in Wrigley Field to avoid such an embarrassing incident like what happened on Opening Night.
Nothing like seeing a steady line of porta potty's to get you excited for the start of baseball season.
Whether this is better than the infamous trough is up for you to decide but this is what happens when you bungle a renovation project that is going to take four years to complete. The Cubs didn't want to play their games outside of Wrigley this year so they're going to have more issues like bathrooms not working and guys peeing in cups and leaving them on the floor.
Had the Cubs said they were going to play their "home" games at the home of the Chicago White Sox at U.S. Cellular Field or even Miller Park where the Milwaukee Brewers play, these things wouldn't happen. This could be a harbinger of things to come where more renovation problems hurt the fan experience.
Hopefully, the on-field product can at least provide some relief better than the bathrooms can.
More from FanSided