Florida Gators catcher snubbed by teammates hands out air-fives (video)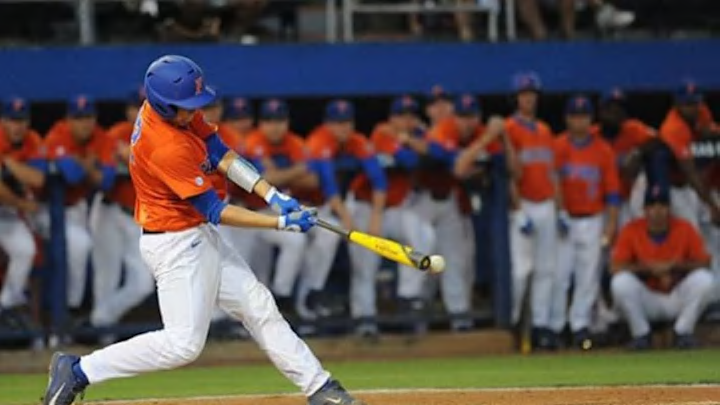 Florida Gators cathcer J.J. Schwarz makes contact against Stetson. Credit: GatorZone.com /
Gators catcher J.J. Schwarz enjoyed a ridiculous night on Tuesday, knocking out four home runs against Stetson in a 22-2 rout.
---
Much like they do at the start of football season, SEC baseball teams enjoy scheduling over-matched opponents at the start of the regular season to boost both the record of the club and the morale of the players.
More from Mens Baseball
This was the case when The University of Florida took on Stetson University, a school with a little over 4 thousand students, on Tuesday for a regular season matchup.
If you have ever seen the two-thousand yard stare on the face of the Georgia Southern football team when they play Alabama every year, then you are also familiar with the way Stetson felt after a 22-2 thrashing that was highlighted by Florida catcher J.J. Schwarz's four home runs.
Jeez, Florida. No need to salt the earth too.
The true freshman catcher was temporarily shunned after his fourth jog around the bases, but that didn't stop him from celebrating with the demons that haunt Alfred A McKethan Stadium. Either that, or perhaps he was surrounded by bees in the dugout, because Schwarz kept swatting at the air as he entered where his teammates were sitting.
They soon celebrated with Schwarz for a job well done, and further celebrated an easily fought victory that brought the teams record to a tidy 25-9.
More from FanSided