New York Jets host Garrett Grayson to private workout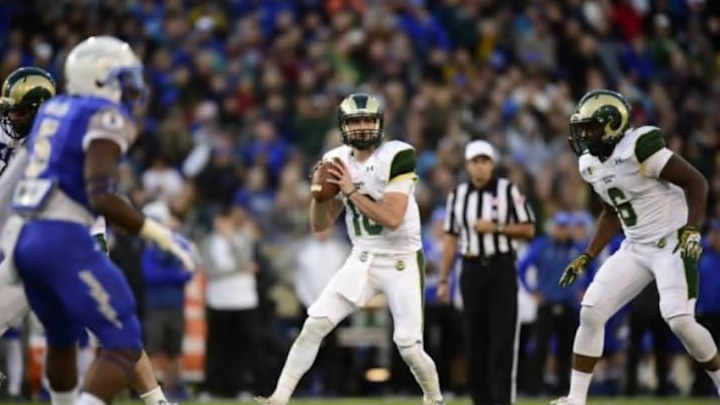 Colorado State Rams quarterback Garrett Grayson (18) prepares to pass in the third quarter against the Air Force Falcons at Falcon Stadium. The Falcons defeated the Rams 27-24. Mandatory Credit: Ron Chenoy-USA TODAY Sports /
The New York Jets will host Colorado State QB Garrett Grayson to a private workout. 
---
The New York Jets are in search of a new quarterback this offseason in the NFL draft. They are one of the teams that have been mentioned in the Marcus Mariota race. They could make a trade to take him in the first round. They also have been mentioned to have interest in Jameis Winston. They could take one of those guys early or wait till later in the draft to find someone to compete with Geno Smith at quarterback.
More from New York Jets
One quarterback that the Jets have some interest in is Colorado State QB Garrett Grayson. The team could spend a draft pick in rounds 2-4 on a player like Grayson. Grayson could use some time to develop, but he would compete for a starting role in New York if he were brought onto the roster. He would likely start the season out on the bench, but could find his way onto the field as the season progresses.
The Jets are looking to find a franchise quarterback. After many years of watching Mark Sanchez and Geno Smith run the show in New York, the team could use a quarterback to lock down the position for a long time. Will Grayson be that guy or will he just be a project that the Jets will work with?
The Jets are hosting Grayson to a private workout next week, per Manish Maheta. The team will see if Grayson can be that franchise quarterback in New York. Does he have that type of ability for the Jets? Grayson has also had some workouts with the St. Louis Rams, Chicago Bears and Dallas Cowboys.
The Jets are doing their homework on all the QBs in the draft. They have brought in Marcus Mariota, Jameis Winston and Bryce Petty in for workouts this offseason already. The Jets will be looking to add someone to the roster to join Geno Smith and Ryan Fitzpatrick at the quarterback spot. Last season they had Michael Vick in the mix at the position. The team will be looking for another young player to add into the mix.
Geno will only be in his 3rd season in the league, but the new coaching staff might want to go in a different direction. Last season, Geno threw for 3,046 yards with 12 touchdowns and 21 interceptions. He has to cut down on the interception total and make his touchdown to interception ratio better. Ryan Fitzpatrick will likely push for the starting job, but who will be the future in New York? Will it be Grayson or any of the other quarterbacks in the draft? It doesn't seem like it will be Geno.
More from FanSided