Blue Jays' Jose Reyes has cracked rib, stint on DL likely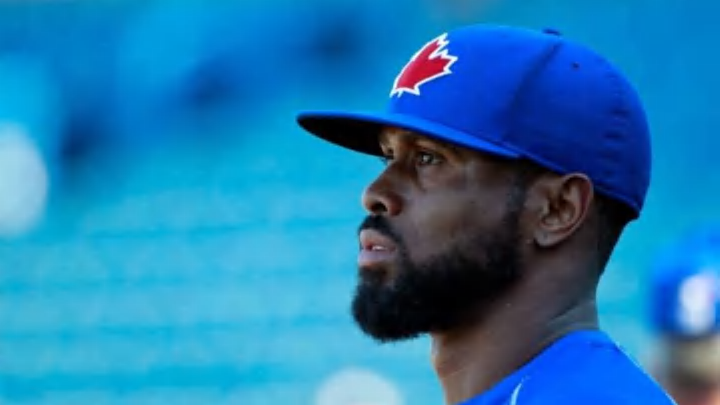 Mar 17, 2015; Tampa, FL, USA; Toronto Blue Jays shortstop Jose Reyes (7) works out prior to the spring training game at George M. Steinbrenner Field. Mandatory Credit: Kim Klement-USA TODAY Sports /
Blue Jays shortstop Jose Reyes diagnosed with cracked rib, will likely be placed on the disabled list.
---
Jose Reyes, shortstop for the Toronto Blue Jays, has a small fracture in his rib, the team announced on Friday. Reyes will likely be placed on the disabled list, though no formal announcement has been made. Reyes, also a former, long-time New York Met, underwent an MRI on his ribs on Thursday. The team is expected to make a decision on Friday.
During an interview on sports talk radio in Toronto, Blue Jays manager John Gibbons discussed the injury.
""It's a rib problem. It's just a small, little tiny crack in the rib, fracture, Gibbons said. "What we do have to be conscious of, too, is you don't want this thing to turn into a long-term problem. If it's best to nip it in the bud right now, maybe that's the smart route to take.""
Prior to Friday's announcement, the Blue Jays announced that Reyes will miss at least the next three games due to soreness in his left oblique. Reyes left Thursday's game after experiencing pain during his first at-bat.
More from Miscellaneous
"I was playing through [the pain]," Reyes said Thursday, "but I feel like yesterday and today it kind of got worse. I kind of backed off a little bit, because that's dangerous."
Clearly both Reyes and Gibbons are taking all of the necessary precautions. It sounds like the Blue Jays believe a stint on the disabled list is the right move. Frankly, this early in the season, it makes the most sense. The last thing they want is for Reyes' injury to worsen or flare up during a pivotal time later in the season.
With Reyes out for at least three games, Ryan Goins and Steve Tolleson will likely fill in at shortstop. While both players specialize in key skills, defense and hitting left-handed pitching  respectively, there will be a drop off. The Blue Jays also need to figure out how to replace Reyes at the top of the line-up.
The Blue Jays, who sit at 5-5, cannot afford to fall too far behind the AL East leaders – the Boston Red Sox and Tampa Bay Rays. Hopefully, for them, Reyes will not be out too long.
(h/t Toronto Star)
More from FanSided