Kris Bryant's debut with Cubs was an utter disaster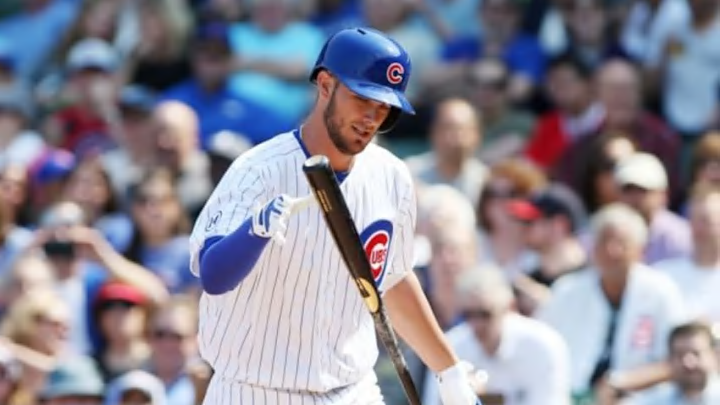 Apr 17, 2015; Chicago, IL, USA; Chicago Cubs infielder Kris Bryant reacts after striking out against the San Diego Padres during the fourth inning at Wrigley Field. Mandatory Credit: Jerry Lai-USA TODAY Sports /
The Chicago Cubs rolled out Kris Bryant on Friday afternoon, and his debut was less interesting than a duck fart into center — something that eluded Bryant at the plate. 
---
Kris Bryant made his much antiquated MLB debut on Friday afternoon at the friendly confines of Wrigley Field and his game was about as incomplete as the stadium he was playing in.
It was an utter disaster of a debut for Bryant who made on great defensive play juxtaposed against three strikeouts and a ground out on an 0-for-4 afternoon.
To be fair, he may not have been able to hit a baseball in his debut but he sure did know how to catch one. Bryant turned in his first highlight reel play of his career, snagging a liner at third in the 5th Inning.
It was a great play, but was it really that great or is it just great in the bigger context of Bryant's utterly disappointing day. It's probably the latter, but it plays into the idea that the Cubs are trying to build a defensively sound team that smothers you rather than murders you.
Addison Russell stewing in the minors as an everyday defensive shortstop is an example of this and Bryant's play being touted over his 0-for-4 game is further proof.
More from Chicago Cubs
It's also proof that the Cubs are trying desperately to find the silver lining in what was a dud of a debut.
Are Expectations of Kris Bryant Too High?
This is the million dollar question that fans are asking themselves as Bryant's debut wasn't what everyone had in mind. He came up from the minors already being touted as a god, and his debut was something you'd expect out of an average baseball player. That's what is scaring so many people about his 0-for-4 debut as he looked mortal and that's not what he's supposed to be.
That's something that is on fans and the media though for hyping him the way he was. Minor league success is one thing but they call it the 'Big Leagues' for a reason — and that's the reality of the situation for Bryant. He is just a normal, first-year big leaguer and he needs to prove himself otherwise.
Bryant hasn't earned a single thing in his career, yet. He was gifted with a spot high up in the Cubs batting order and he needs to prove he can stay there. Bryant is not Babe Ruth, he's not Hank Aaron and he's not even Dexter Fowler at this point. He's just a kid who needs to prove his worth at the big league level and fans need to get used to the idea that this won't be his only 0-for-4 game.
More from FanSided