David Blatt: Cavaliers playoff run can't all be on LeBron James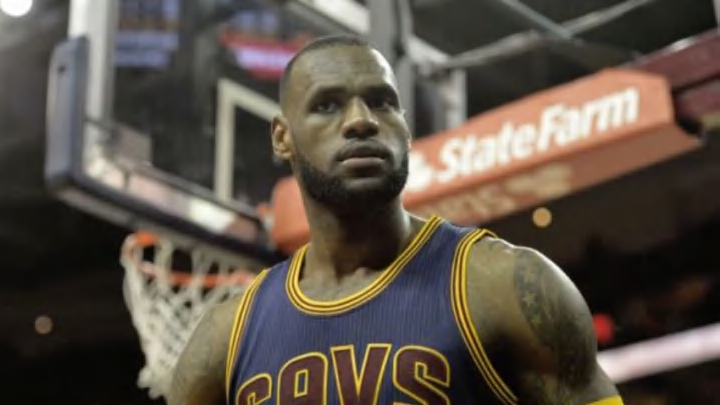 Apr 5, 2015; Cleveland, OH, USA; Cleveland Cavaliers forward LeBron James (23) reacts after a dunk in the third quarter against the Chicago Bulls at Quicken Loans Arena. Mandatory Credit: David Richard-USA TODAY Sports /
David Blatt and Lebron James discuss roles for playoffs
---
More from Cleveland Cavaliers
The Cleveland Cavaliers are going to a have a telling NBA Playoff run. What I mean by this is that the playoffs are going to give a glimpse into the team a little more than surface level. We understand they have the best player on the planet in LeBron James. We understand that the franchise did a good job surrounding him. But what is going to be flushed out during this stretch is how good his surrounding team is, and exactly who David Blatt is as a coach, because this competition will not allow him to hide behind LeBron.
So what is the role for LeBron, Blatt, and the team?
Coach Blatt spoke recently with ESPN on LeBron's role on the team during the playoff's
""I think that mentally and emotionally he'll lead the way. And certainly on the court his example is going to be felt and it's going to be followed. But this all can't be on LeBron. This is a team and a team effort and everyone here has to do his part. The good news is he's a guy that's done it, been there and led teams to the ultimate. He's certainly a guy that the other guys can look towards."There aren't many players in the playoffs right now that have his kind (of) experience and understanding of the moment, so I think we can depend on him to do the right thing,""
Blatt is saying what Erik Spoelstra has said when he coached James and what Scott Brooks has said in playoff series past with Kevin Durant. The only difference is, this team was built for LeBron–by LeBron.
""My leadership doesn't change no matter the magnitude of the game," said LeBron. "I'm going to lead my guys and get them as prepared as they need to be on Sunday and they'll follow my lead and I'll put them in the best possible chance to win.""
To win a championship the Cavaliers will need all parts. Lebron reinforced this notion last year after falling to the Spurs, and then confessing to being tired. LeBron will lead and will take over games, but it will be the surrounding cast that ultimately makes a championship team. 
So who is it for Cleveland?
Kyrie Irving will definitely have to shoulder a large load. You could argue that, given his youth and the fact that he has zero playoff experience, the load is heavier than LeBron's because LeBron has carried it before.
The player that will be called upon to perform, and their future will hinge on maybe the most, is J.R. Smith. He will need to provide scoring from the three-point line and lighten the load on Irving and LeBron. He has been filling this role very well recently. But when defenses tighten and the game intensifies, J.R. Smith will have to work to maintain providing the role as a scoring option.
Iman Shumpert will also be asked to hit shots down the stretch and possibly lock down shooting guards, which all the top-tier teams have.
Despite feeling top-heavy because their best player is the best player in the league, the Cavaliers have a well-rounded team that will need to play well-rounded to bring home the Larry O'Brien.
More from FanSided