Meet the bald eagles living on Jack Nicklaus' golf course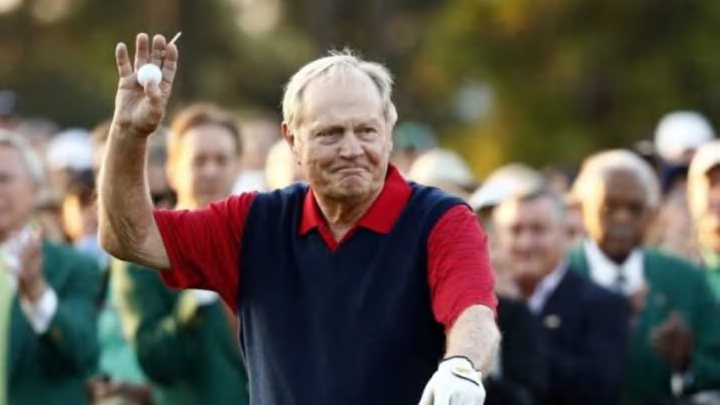 Apr 9, 2015; Augusta, GA, USA; Honorary starter Jack Nicklaus waves to the crowd on the first tee during the first round of The Masters golf tournament at Augusta National Golf Club. Mandatory Credit: Rob Schumacher-USA TODAY Sports /
Golf legend Jack Nicklaus has a family of bald eagles living on one of his golf courses. 
---
It does not get much more American than this.
A family of bald eagles has found a home on the 10th green of one of Jack Nicklaus' golf courses. The eagles, the national bird of the United States, have lived on the back nine of Bear Trace at Harrison Bay, a public golf course in Tennessee designed by Nicklaus, since 2010.
In 2011, the United States Golf Association helped fund the Harrison Bay Eagle Cam, which features a live stream of the eagles 24 hours a day. If you want to watch the eagles, or just enjoy birds chirping as background noise, the live stream is available here.
In late March, the live stream showed the number of eagles grow as the family's seventh and eighth eaglets (called HB7 and HB8) hatched.
Additionally, the course's Twitter account keeps followers up to date on what the eagles are up to.
Nicklaus, America's golf legend, is widely regarded as the best professional golfer of all time. His total of 18 major wins is a record that is unlikely to be broken any time soon. Thanks a lot, Tiger Woods.
More from Golf
Nicklaus was named the honorary starter at this year's Masters in Augusta, Georgia. His drive off the first tee during the first round marked the start of golf's most prestigious tournament.
The eagles, though, are the real heroes of this story. They found a beautiful, big tree in the middle of a golf course designed by the greatest golfer of all time. That's the equivalent of building a nest next to Michael Jordan's personal basketball court.
But living atop a tree on a golf course. Can you think of a more peaceful, tranquil place to raise a family? Or a more perfect place to nap?
Families all over America pay a premium to live next to golf courses. These eagles just do what they want, with no consequences. Their relatives have even taken back New York for the first time in over a century.
It pays to be the symbol of America.
More from FanSided