Houston Rockets fire social media manager, fans want him back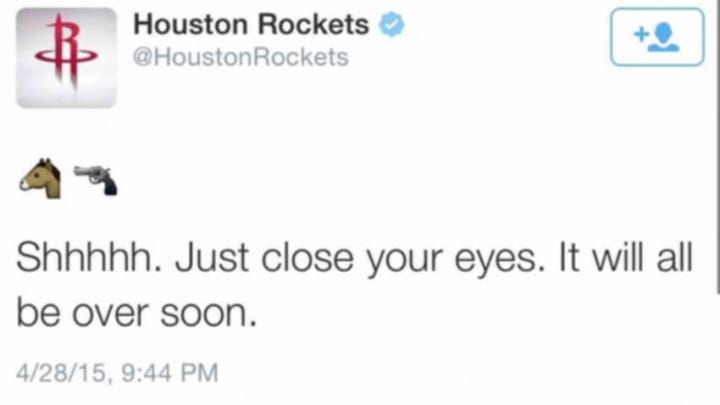 The Houston Rockets have fired their social media manager over a questionable tweet that irked some but has caused outrage over the fallout. 
---
The Houston Rockets tweeted out an innocent, and quite funny tweet that involved a horse and a gun emoji, assuring Dallas Mavericks fans that their painful first round series would be coming to a close shortly.
Apparently the higher-ups in the Rockets organization lack a sense of humor, and in today's world of public relations nightmares, the team fired the man who was behind the now infamous tweet.
Here is the horribly offensive tweet that cost Chad Shanks his social media job of running the team's official Twitter account.
The tweet irked the Mavericks, who responded as follows.
How dare you offend your in-state rival with a clever use of emojis?
The Rockets felt they had no choice but to roll over and apologize, apparently. Here is their first desperate PR-friendly move of the night, in which they apologize to the Mavericks organization and their fans for the egregious actions moments earlier.
I understand the apology that they released, but the firing of Shanks for a harmless tweet is incredibly dumb, and fans in Houston have fired back, on Twitter of course, starting a #BringBackChad campaign.
In addition to #BringBackChad, fans have started a petition to bring back the social media manager who has brought Rockets fans plenty of entertaining content throughout his time with the team. So far, nearly 500 people have signed the petition in the first hour of it being started, and that number is sure to continue to skyrocket as more sports fans across the nation catch notice of the Rockets' absurdity.
The team deserves every bit of backlash they receive from their idiotic decision. The next Houston Rockets social media manager better seek permission before using emojis. God forbid another harmless and clever dig at a rival during the playoffs.
More from Houston Rockets