Mike Mayock Buccaneers Mock Draft: Tampa Bay selects…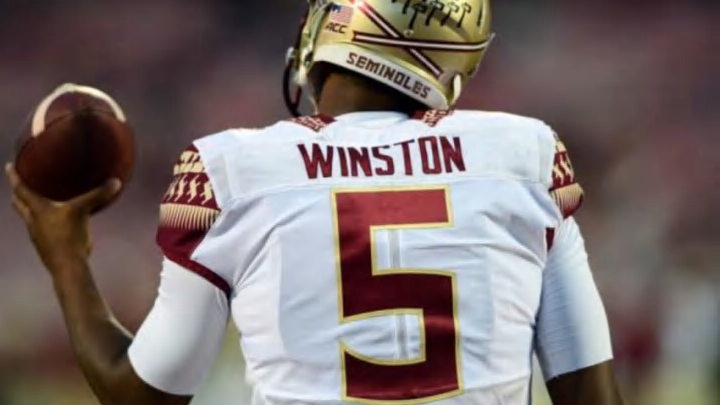 Oct 30, 2014; Louisville, KY, USA; Florida State Seminoles quarterback Jameis Winston (5) against the Louisville Cardinals at Papa John /
Mike Mayock's mock draft is one of the most intriguing every year, see who he has the Tampa Bay Buccaneers selecting.
Next: Every NFL Team's Best Draft Pick Of All-Time
The No. 1 overall pick in the NFL Draft this season belongs to the Tampa Bay Buccaneers, and just about everyone has them locked in on taking Jameis Winston out of Florida State. He has the potential to be a franchise quarterback, but the questions about his character and his behavior off the field has cast doubt over his value atop draft boards.
Lovie Smith and the Buccaneers seem locked in on Winston though, and that's why so many pundits are claiming the draft starts with the No. 2 pick.
Mike Mayock is an authority when it comes to the NFL Draft though, and Bucs fans were wondering if he too had bought into the Jameis Winston hype when it comes to the Buccaneers and the No. 1 overall pick.
Last year, Mayock had the Tampa Bay Buccaneers selecting Mike Evans with the No. 7 overall pick — and that's what happened. The Bucs went with Evans and he ended up having a Randy Moss-style stretch in the middle of the season where he just went off.
Mayock has the Buccaneers taking Jameis Winston with the first pick of his mock draft this season.
How did fans react to that pick?
That's created a lot of buzz for the Bucs, as Evans is paired with Vincent Jackson and the duo could be special for Jameis Winston. It all comes down to his character though, and the Buccaneers need to make sure they can control him off the field and change him into the franchise quarterback they need him to be.
Next: 15 Biggest NFL Draft Busts In History
More from NFL