NFL Draft Rumors: Titans would take Amari Cooper?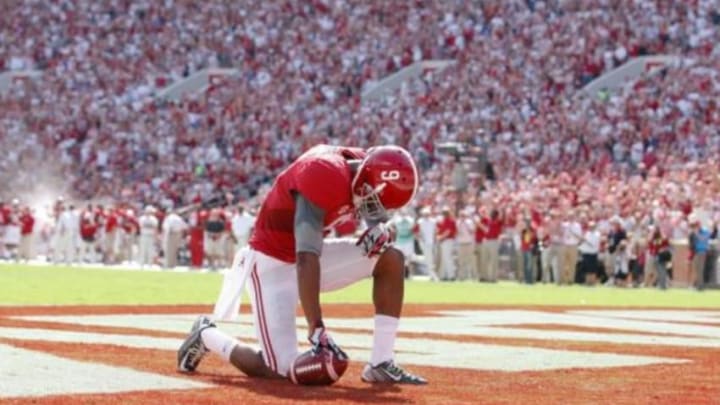 Sep 20, 2014; Tuscaloosa, AL, USA; Alabama Crimson Tide wide receiver Amari Cooper (9) takes a moment after scoring a touchdown against the Florida Gators at Bryant-Denny Stadium. Mandatory Credit: Marvin Gentry-USA TODAY Sports /
While many would expect them to take a quarterback, could the Tennessee Titans swerve everyone and take Amari Cooper?
Next: Every NFL Team's Best Draft Pick of All-Time
With just a few hours to go until the beginning of the NFL Draft on Thursday night, no one is really sure what the Tennessee Titans will do with their No. 2 overall pick. Reportedly, there are at least two teams interested in dealing with them in the Philadelphia Eagles and Cleveland Browns. Also, the New York Jets and St. Louis Rams have apparently thrown their names into the trade hat as well.
Still, the argument that some are making in regards to the Titans staying there at that No. 2 pick is the fact that they need a quarterback, as not many people have a lot of faith in Zach Mettenberger.
However, what if Ken Whisenhunt and the Titans do indeed have faith that Mettenberger can be the man and they'd rather use this first round to get him some help? You know, maybe in the form of a former SEC rival.
Well according to Jim Wyatt of the Tennessean, that possibility is not off the table, as should the Titans not want to go with a signal caller in Round 1, he could see them going the way of Amari Cooper.

Now the Titans coveting the services of Cooper does not mean that they would have to nix the chances of a trade. Both the Jets and Rams have picks near the top half of the first round, and if they feel that they can get Cooper with one of those picks, then a deal could still happen and they would get their wide receiver.
If the team does have faith in Mettenberger and his progression, it wouldn't hurt to grab him arguably the best wide receiver that this class has to offer.
Next: NFL: 15 Biggest Draft Busts Of All-Time
More from NFL Draft