90s Week: Friendly Bounce 90s Week RTOE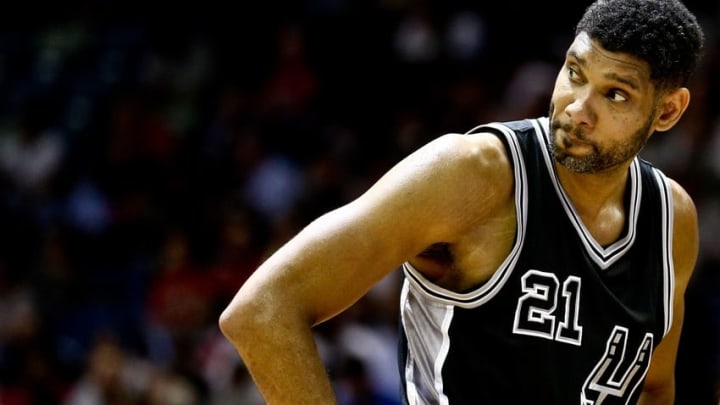 Mar 3, 2016; New Orleans, LA, USA; San Antonio Spurs center Tim Duncan (21) against the New Orleans Pelicans during the second half of a game at the Smoothie King Center. The Spurs defeated the Pelicans 94-86. Mandatory Credit: Derick E. Hingle-USA TODAY Sports /
Mar 3, 2016; New Orleans, LA, USA; San Antonio Spurs center Tim Duncan (21) against the New Orleans Pelicans during the second half of a game at the Smoothie King Center. The Spurs defeated the Pelicans 94-86. Mandatory Credit: Derick E. Hingle-USA TODAY Sports /
Around this time of year, Hardwood Paroxysm usually does a theme week. This year, as the pool of players who began their careers in the 1990s dwindles, we thought it would be fun to celebrate the entire decade. In typical HP fashion, we will be covering ten years of basketball like a cat chasing a laser pointer. There is nothing comprehensive about our plans, around the HP Network we're simply digging into the players, teams, and stories from that decade which interest us most. Welcome to #90sWeek.
Who was your favorite player from the 90s?
Wes Goldberg (@wcgoldberg): As much as I want to rep my main man Alonzo Mourning, and I have great memories of watching Allen Iverson and Tracy McGrady, I have to go with Kevin Garnett. Growing up in South Florida, I watched Zo on a weekly basis. Iverson was on my television, if not during a game, than on the ESPN highlight and/or news cycle often, as was Tracy McGrady. But they were guards, and as revolutionary as they were we've seen great guards. But when I saw Garnett, man, it blew my mind. I had no idea someone that long could dribble and pass the way he did. The way he moved. The way he shot the ball. "This guy is seven feet tall? Are we sure?!" I was convinced he was an alien. Like Stephen Curry today, he changed the way I thought about the game.
Ian Dougherty (@IanDougherty): As a very young kid in San Antonio in the 90s, the player that made the biggest impression on me was Spurs' guard Avery Johnson. He wasn't an All-Star caliber player, but the Little General was a table-setting point guard, and knew how to get David Robinson and Tim Duncan the ball. He didn't score much, but his shots were timely, evidenced by his game-winning short-corner jumper in Game 5 of the 1999 NBA Finals, which clinched the Spurs' first ever championship.
Donnie Kolakowski (@Donniebuckets): I grew up in the suburbs of Chicago, so the answer is Michael Jordan, but that's boring. So I'll go with Toni Kukoc, who made the Bulls truly unstoppable when he was on. Chicago definitely drops Game 7 against Indiana in 1998 if it wasn't for the hot hand of The Waiter, which seems to get forgotten when telling the tales of the Chicago dynasty.
Ryne Prinz (@ryneprinz): As Donnie alluded to, it's pretty hard not to pick M.J. and be a Bulls fan. But I'll roll with Dennis Rodman. I'm always a fan of the gritty and boisterous players (Joakim Noah), and Rodman made rebounding and defending fun. He also had the best hair out of anyone in the decade.
Dan Favale (@danfavale): The deluded Knicks apologist in me wins over: Patrick Ewing. He was straight money for the first 12 or 13 years of his career. I remember envying his footwork to the point I tried imitating his post moves around my backyard hoop. (Related: It didn't go very well.) Ewing was one of those guys who truly made you appreciate how aesthetically pleasing defense can be. Beyond that, I may or may not—I definitely did—have doused myself with many a bottled water trying to duplicate the sweat-sopped look he would have going roughly 30 seconds into every game. Iconic perspiration, that was.
Matt Cianfrone (@Matt_Cianfrone): It took me a long time to decide on this one between Tim Duncan and Kevin Garnett but ultimately I am going to go with Duncan. As someone who wasn't very athletic Duncan was someone I loved to watch dominate games with simple but perfect post moves.
Apr 5, 2015; San Antonio, TX, USA; Golden State Warriors point guard Stephen Curry (30) shoots the ball under pressure from San Antonio Spurs power forward Tim Duncan (21) during the second half at AT&T Center. Mandatory Credit: Soobum Im-USA TODAY Sports /
Which player from today would be the most fun back in the 90s?
Goldberg: Wouldn't it have been great to, you know, actually see LeBron James play Michael Jordan? Without a doubt that would have been the most fun.
Dougherty: A lot of guys that played in the 90s seem to think that they would have shut down Steph Curry if he played in that era. I disagree. Even with hand-checking and physical defenses, I think he'd still have a great handle, and be tough enough to handle some hits. His ability to knock down shots from any area on the court would have broken the 90s defenses that thrived on shutting down the paint, and with the illegal defense rules, defenses would have even less help on the slippery marksman.
Kolakowski: I think Dwyane Wade's abilities in the post and in-between game would have made him a perfect shooting guard in the '90s. LeBron, Steph, and KD would all have been as good in the '90s (despite what the old guard tells you), but Wade probably would have been better with the style and rules being diffferent.
Prinz: I would have loved to see Boogie dominating the pain (editor's note: Ryne probably meant paint here but Boogie and pain fit so perfectly I left it) during the ''90s. Low-post play was much bigger at the time, so DeMarcus would thrive. Imagine Boogie and Shaq going at it?
Favale: Some think Stephen Curry wouldn't have thrived in the previous NBA due to more physical defenses and the fact coaches wouldn't appreciate his skill set enough to play him. Maybe that's true. But I'm betting it isn't, and I'd sure as hell love to see the defenses of yesteryear try to figure out how to stop a player who, back then, would have been decades ahead of his time.
Cianfrone: Gotta go with Wes on this one. LeBron in the 90s would have been a blast thanks to his overall game and the fact it probably would have pushed him to the post earlier, and that is the place his passing can get the most fun.
Feb 14, 2015; New York, NY, USA; Team Millsap forward Paul Millsap of the Atlanta Hawks (4, left), legend Scottie Pippen (center), and guard Elena Delle Donne of the Chicago Sky (11, right) during the 2015 NBA All Star Shooting Stars competition at Barclays Center. Mandatory Credit: Bob Donnan-USA TODAY Sports /
Which 90s player would be the most fun in today's game?
Goldberg: This is close for me between Hakeem Olajuwon and John Stockton, but the reason is the same. I think both of their games would be better appreciated in today's league. It would have been cool to see Stockton let loose beyond the arc, but part of his game was the discipline he approached it with. So, I'll go with Hakeem. There is no doubt that he could have been a stretch-5 in today's NBA. He had a nice stroke, and would have learned to play out at the three-point line. But I hope he wouldn't. He was so dominant and so polished in the low post, it would be awesome to see him challenge small ball lineups today.
Dougherty: Drazen Petrovic. In today's NBA, you need a point guard that can get buckets on his own, in addition to setting up his teammates. Petrovic fits that bill perfectly. He had great ability to get into the lane, and had a sweet shooting stroke to match. An international legend who only had two great years of production in the NBA before tragically dying in a car accident, he still left a big enough imprint to be inducted into the Basketball Hall of Fame. Just imagine what he could have done in the league with more time. RIP.
Kolakowski: I'll put my Bulls homer hat on once more and go with Scottie Pippen. Sure, his shooting would've been an issue, but he is the perfect defender for today's game, with the ability to lock down 1-4 and switch whenever necessary. He's also got the playmaking skills to be a modern four who handles the ball and attacks off the dribble, causing nightmares for opposing teams.
Prinz: Although a mediocre three-point shooter, Kevin Johnson would be a blast in the league today. The league has shifted towards a style of play where point guards are often fantastic scorers as well, and that's what KJ was. His speed and athleticism allowed him to get to the rim and out on the break, and he could pass as well, averaging double digit assists four times in his career.
Favale: Chris Mullin would have made a mighty-fine complement to today's Stephen Curry. Just saying.
Cianfrone: Donnie is right. Scottie is basically the evolved form of Draymond Green. He would be so great in today's game.
Jan 16, 2016; Auburn Hills, MI, USA; Detroit Pistons former player Rasheed Wallace waves to the crowd during the second quarter against the Golden State Warriors at The Palace of Auburn Hills. The Pistons won 113-95. Mandatory Credit: Raj Mehta-USA TODAY Sports /
Which 90s player do you wish had social media during their playing days?
Goldberg: Allen Iverson on Snapchat would be everything. Snapping videos of kicking it at the clubs or postgame meals at T.G.I. Fridays. He's just so cool, and I want to be a part of it.
Dougherty: Charles Oakley. In a decade full of tough dudes, I'd like to see how the toughest dude of them all lived. If there was social media back then, we'd have a Vine of him slapping Charles Barkley.
Kolakowski: I would say Charles Barkley, but he hates social media now, so he likely wouldn't have been on it then. So, I'll go with Shawn Kemp. If he's bold enough to point at dudes after he dunked on them, I'd imagine he'd be fine calling people out on Twitter.
Prinz: Once again, I choose Dennis Rodman. He was one of the most eccentric players in his time, and he is very active on social media now. I can only imagine what he'd be tweeting or Instagramming back then.
Favale: Let's just all agree Allen Iverson's NSFW tweets would generate all the clicks and call it a day.
Cianfrone: Rasheed Wallace was drafted in 1995. So this was an easy choice.
Feb 14, 2016; Toronto, Ontario, CAN; Chairman of the board, MLSE Larry Tanenbaum (L) and Chairman, Charlotte Hornets Michael Jordan (R) look on during a stoppage in play in the second half during the NBA All Star Game between the Western Conference and the Eastern Conference at Air Canada Centre. Mandatory Credit: Peter Llewellyn-USA TODAY Sports /
What is your favorite 90s memory?
Goldberg: Maybe this doesn't count, but I won a plush Charlotte Hornets basketball at a carnival one year and was a Hornets fan for a hot minute.
Dougherty: Besides my guy Avery Johnson hitting that game-winner vs. the Knicks in '99? It's got to be watching Sean Elliott hitting the Memorial Day Miracle versus the Portland Trail Blazers in Game 2 of the Western Conference Finals that same year. I was only like five when it happened, but can still vividly remember him on the TV tight-roping on the catch, making one rhythm dribble, and then drilling the shot right in Sheed's grill. It was beautiful.
Kolakowski: Again, Jordan's last shot as a Bull is too cliche, so I'll go with the Denver Nuggets' series victory against the Seattle Supersonics in 1994. It was the first time an 8 seed beat a 1, and Denver had to win games 3-5 (with 4 and 5 being in overtime). It's hard to beat that kind of drama in an opening round series.
Prinz: Ahhh, the '90s. What a great four years for me they were. M.J. dropped 27 against the Indiana Pacers on my second birthday. Thanks, Mike.
Favale: Allan Houston's series-winner against the Miami Heat in Game 5 of the first round of the 1999 playoffs still sends a chill down my spine. The way he angled his body, the way the ball bounced on the rim, the reaction after it fell through the net—it was all so crazy to a pre-teen me who hadn't yet learned to doubt the Knicks' very existence.
Cianfrone: This is cliche but I won't ever forget Jordan's jumper against the Utah Jazz. I was just starting to get into basketball at that point since I was fairly young an a moment like that hooks you forever. It was great.