Chicago athletes upset about city's smokeless tobacco ban at stadiums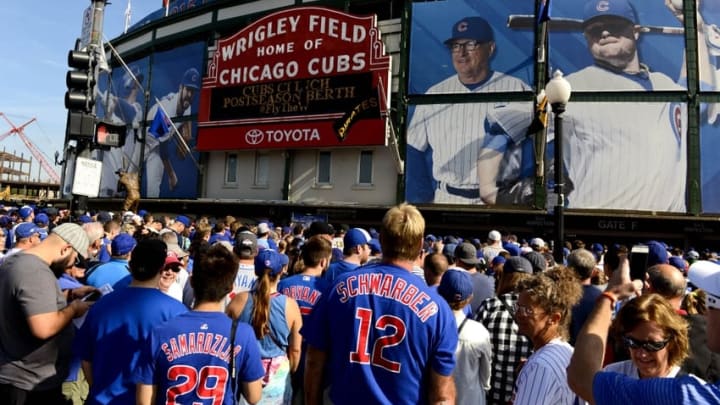 Sep 26, 2015; Chicago, IL, USA; Fans wait to enter Wrigley Field before the game between the Chicago Cubs and the Pittsburgh Pirates. The Cubs clinched a playoff spot on Friday. Mandatory Credit: Matt Marton-USA TODAY Sports /
Members of the Chicago Cubs and Chicago White Sox, among other athletes, are not happy with the new ordinance that bans the product inside stadiums.
Across the country and in the world of sports, there has been a growing movement to rid themselves of anything associated with tobacco. The concept has been focused especially on the sport of baseball, where players chewing tobacco was just as much a part of the game as the seventh-inning stretch.
Now the city of Chicago is going a step further by passing an ordinance that bans smokeless tobacco products like dip and chaw. The decision is not sitting well with some of the players on both the Cubs and White Sox.
Some, like pitcher John Lackey, are not appreciative of being told they can't continue their habit.
"We're grown men. People in the stands can have a beer, but we can't do what we want? That's a little messed up."
Others around the game, like Chicago Cubs manager Joe Maddon, don't like the habit, but don't like the city telling them what to do even more.
"I stopped chewing tobacco about 15 years ago, and I'm glad that I did because I think I feel better because of it. I know the pitfalls. But I'm into education; education the masses and let everybody make their own decisions. That's what I'm about. So to tell me what I can and cannot do as an adult –unless it's illegal; that's something different."
For decades, the sight of players spitting tobacco out of their mouth on the field and in the dugout has been as common as anything else. Youngsters growing up imitated these athletes with products such as Big League Chew, which worried those that attempted to get the addicting habit out of sports.
Still, players like Cubs catcher Miguel Montero say the new rule in Chicago may be just the thing they need to finally quit:
"It's going to be hard because you're an addict, pretty much. It's going to be tough to quit cold turkey. Hopefully, I can quit that, and hopefully that helps me to quit."
The ordinance, which starts in 90 days, fines anyone caught $250 for the first offense, $500 for the second and $2,500 for each additional one. Similar bans have been passed in California and Boston, while New York City will be voting on a ban in the next week.
For more MLB news, check out our MLB hub page.