2016 MLB Season: AL Central Preview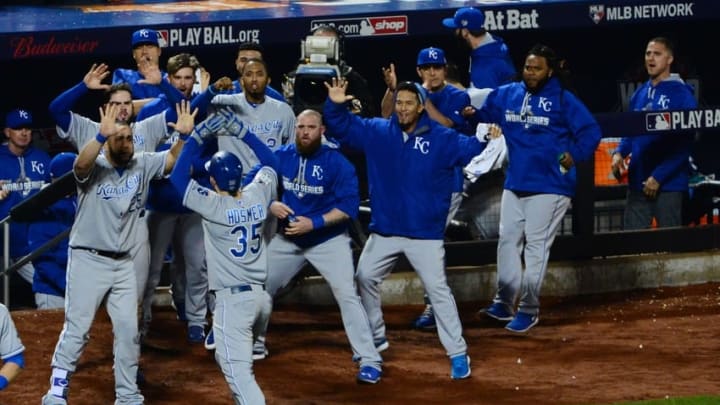 Nov 1, 2015; New York City, NY, USA; Kansas City Royals first baseman Eric Hosmer (35) celebrates with teammates after scoring a run against the New York Mets in the 9th inning in game five of the World Series at Citi Field. Mandatory Credit: Jeff Curry-USA TODAY Sports /
Jerome Miron-USA TODAY Sports /
5. Minnesota Twins
I don't think you'll find many people who predicted the Twins finishing with an 83-79 record last season. Coming off a stretch of four bad seasons, it was looking like a massive hill to climb for first-year manager Paul Molitor. With this said, Molitor and the youthful clubhouse proved everyone wrong and was a realistic contender for a playoff berth. In 2016, the Twins face even more barriers to success. Not only are they still a young and rather inexperienced team, but the AL Central is even more loaded.
Projected Lineup:
1. Byron Buxton, CF
2. Brian Dozier, 2B
3. Joe Mauer, 1B
4. Miguel Sano, RF
5. Trevor Plouffe, 3B
6. Eddie Rosario, LF
7. Byung-ho Park, DH
8. Eduardo Escobar, SS
9. Kurt Suzuki, C
When evaluating the Twins' lineup, it's hard to look past the dynamic outfield. It should be exciting to see how Byron Buxton and Miguel Sano continue to develop as their time in the big leagues progresses. Don't be surprised if Sano hits over 30 homers after knocking 18 out of the park in only 80 games last year. While on the topic of outfield, keep an eye on Eddie Rosario who had a solid year last year and should continue to be an everyday starter. Veteran Joe Mauer should provide a calming force for these young guys assuming his vision problems are all healed. A sleeper to watch out for is Park. He came over from the Korea Baseball Organization and has a decent amount of pop.
Projected Rotation:
1. Phil Hughes
2. Ervin Santana
3. Tommy Milone
4. Kyle Gibson
5. Tyler Duffey
The rotation could be a downside to the Twins' 2016 campaign. It lacks an ace; although Ervin Santana (pictured) is very solid. Phil Hughes had a nice comeback year last season and will be an interesting guy to watch out for. However, when viewed from top-to-bottom, there are too many question marks in this staff to compete for a playoff spot.
Projected Record: 75-87
Next: 4. Cleveland Indians