NHL Playoffs: James Hetfield was pumped to greet Sharks before Game 6 (Video)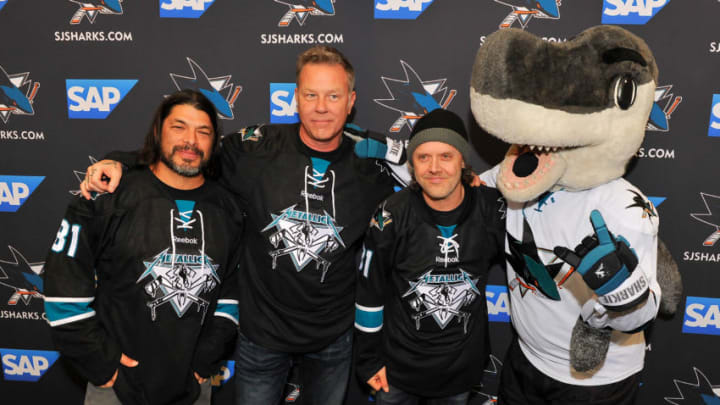 SAN JOSE, CA - JANUARY 21: (L-R) Larry Trujillo, James Hetfield and Lars Ulrich of Metallica receive San Jose Sharks jerseys at Metallica Night At The San Jose Sharks Game on January 21, 2015 in San Jose, California. (Photo by Steve Jennings/Getty Images for BB Gun) /
Metallica lead singer James Hetfield got to greet the Sharks before going onto the ice for Game 6, and boy was he pumped about it. 
The San Jose Sharks are the hometown team for a variety of celebrities since they are located in the same state as Hollywood and Los Angeles. Arguably their most famous fan is the band Metallica. The group's lead singer, James Hetfield, got the opportunity to open the door for the Sharks before they went onto the ice for Game 6. Hetfield has a tendency to get pumped, and he sure was excited to greet his team before they went onto the ice.
The Sharks must have fed off Hetfield's energy, because they destroyed the St. Louis Blues 5-2 to advance to their first ever Stanley Cup Final. It's been a long road for longtime Sharks Joe Thornton and Patrick Marleau. That road has been tough on their fans as well — it's tough to come so close to the Cup but repeatedly miss it.
But it's all worth it now. Metallica might have something up their sleeve for their favorite team's first ever Stanley Cup appearance. Hopefully Hetfield will have a lot more things in the near future to be pumped about.
For more NHL Playoffs coverage, check out our NHL hub page.