NBA Finals Player Preview: Andre Iguodala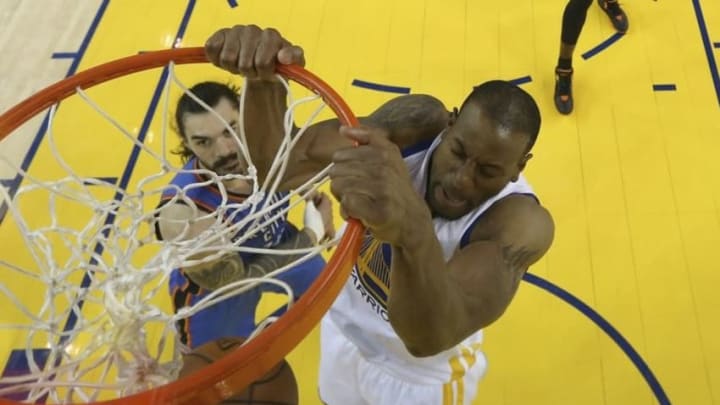 May 30, 2016; Oakland, CA, USA; Golden State Warriors forward Andre Iguodala (9) dunks on Oklahoma City Thunder center Steven Adams (12) in the first half of game seven of the Western conference finals of the NBA Playoffs at Oracle Arena. The Warriors defeated the Thunder 96-88. Mandatory Credit: Ezra Shaw-Pool Photo via USA TODAY Sports /
Andre Iguodala does a little bit of everything, which is exactly what the Golden State Warriors need from him.
Andre Iguodala is being overlooked again. As one of the best bench players in league history and the Most Valuable Player of the 2015 Finals, that seems a little unlikely and yet, as the Warriors prepare to meet the Cavaliers for the second-straight year, he seems reduced to a mere afterthought. Perhaps it's understandable, given the star power surrounding him. LeBron James is the world's most famous athlete. Steph Curry is the best player on the historically best team. Other players on either roster are stars in their own right. Iguodala isn't usually even a starter, although he'll likely take on that role against Cleveland.
Fans want players that are easily understood, that can be reduced to a tangible skill. This one shoots, the other one dunks. And while Iguodala is skilled in many areas, perhaps he's best known for keeping opposing players from doing what they do best. A significant part of why Iguodala was the MVP when they faced the Cavs last year was that he was able to limit James, who had to carry a team racked by injury. While James was still able to score on occasion, the process became increasingly harder when Iguodala was inserted into the starting lineup. At 6-6 and a chiseled 207 pounds, Iguodala falls short of possessing James' frightening physicality. And yet, there was James, the most imposing specimen in the NBA, unable to perform at his very best.
Great moments in basketball are often immortalized by amazing displays of offense. Michael Jordan's extended release in 1998 or Ray Allen's Game 6 dagger in 2013 are iconic images, snapshots of basketball greatness. This year's Finals may very well come down to a similar moment. But this doesn't invalidate the defensive plays that take place before those everlasting moments. Iguodala's impact isn't measured by just one juncture but rather dozens of smaller, crucial instances where layups are contested and dribble-drives are halted by quick feet and quicker hands. The lens of nostalgia might fail to capture but Iguodala, rendered invisible and yet very distinct, will continue to thrive in the moment.
For more NBA Finals coverage, check out our NBA Finals hub page.