2016 NBA Free Agency: 1 move every team needs to make to be contenders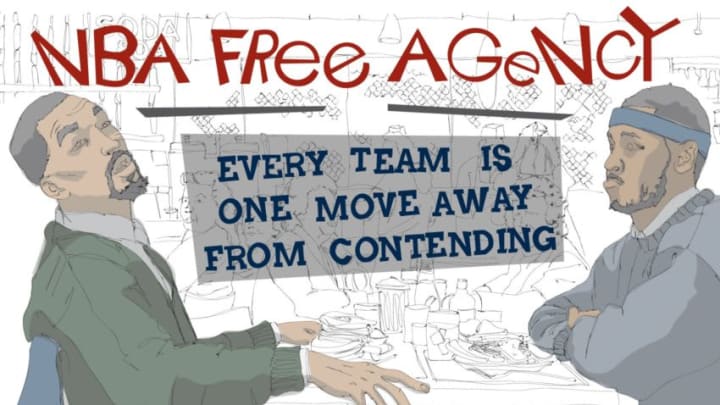 Apr 8, 2016; Philadelphia, PA, USA; New York Knicks forward Carmelo Anthony (7) shoots against the Philadelphia 76ers during the first quarter at Wells Fargo Center. Mandatory Credit: Bill Streicher-USA TODAY Sports /
New York Knicks
The Knicks have a bit of a divide in their roster. Carmelo Anthony is approaching the end of his prime and hasn't seen the playoffs since 2013. And in his year, Kristaps Porzingis proved he is the future of the franchise as the rookie-of-the-year runner-up. The question for Phil Jackson, is can he make Kristaps and Anthony work in 2016 to get back to the playoffs or does he need to move Anthony and build for the future around the Latvian seven-footer.
To start the offseason, Jackson has made moves to try and build a playoff team, trading for the last year of Derrick Roses's max deal in exchange for Robin Lopez, Jose Calderon, and Jerian Grant. Rose isn't anywhere close to his 2011 MVP season, but a fresh start outside his hometown might be what he needs to re-invent his game. Rose in the past has been a bit ball-dominant, btu could act as a go-between for Porzingis and Anthony.
To compete in the East, however, the Knicks still need a veteran frontcourt player to match with Porzingis. Early free agency rumors indicate they are targeting Joakim Noah. Noah has a history with Rose, but also has been (before his injuries) a defensive player of the year and point-center frontman. Personally, I think Noah would be a mistake given his health and history with Rose.
Instead, the Knicks should look to sign Brandon Bass. He is a high volume center that's a bit rough, but he comes cheaper than most will be shopped for out there and he's a veteran player that is ready to get off the Lakers and compete again. I could easily see Bass being energized and playing up to the opportunity with Anthony and Rose. It's the right move to compete in 2016.
Next: OKC Thunder