How Bristol Motor Speedway was transformed for football game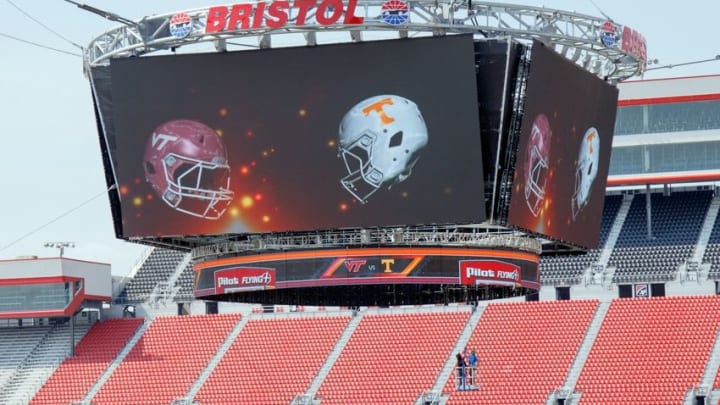 Sep 9, 2016; Bristol, TN, USA; General view of the Colossus video board the day before the game between the Tennessee Volunteers and Virginia Tech Hokies at Bristol Motor Speedway. Mandatory Credit: Randy Sartin-USA TODAY Sports /
Here is a look of all that went into transforming Bristol Motor Speedway to get ready for the Battle at Bristol between Tennessee and Virginia Tech.
For the most exciting game of Week 2 of the 2016 college football season, so much work had to be done to get Bristol Motor Speedway prepared for the Battle of Bristol between the No. 17 Tennessee Volunteers and the Virginia Tech Hokies.
Bristol Motor Speedway is roughly halfway between Knoxville, Tennessee and Blacksburg, Virginia. For the last 20 years, there has been a push for this neutral-site regional rivalry game. Bristol Motor Speedway had 19 days to get ready for this game after a NASCAR race, but the hard work has paid off.
The field of play resides in the speedway's infield. The speedway is large enough to house both Tennessee's Neyland Stadium and Virginia Tech's Lane Stadium comfortably inside of the oval track. It will seat over 150,000 people for this ACC/SEC showdown. That is essentially both stadiums selling out for a ball game in terms of capacity. Neyland Stadium is over 100,000 and Lane Stadium is well over 60,000.
The biggest thing that Bristol Motor Speedway had to account for in preparing to host this game is drainage issues in the infield. In the event of rain leading up to this game, the speedway staff had to figure out how to install a temporary drainage system over what is normally a concrete infield.
Above the field of play will be the giant video scoreboard known as Colossus. It is suspended over the center of the speedway with tension cables. The video scoreboard looks like an alien mothership about to take over the entire Appalachian Mountains region.
Next: 50 Greatest College Football Programs Of All-Time
To transform Thunder Valley from a NASCAR race less than three weeks ago to being able to house a huge Week 2 football game is a testament to how hard the Bristol Motor Speedway staff worked to make this event possible.