SI True Crime delves deeper into Will Smith murder case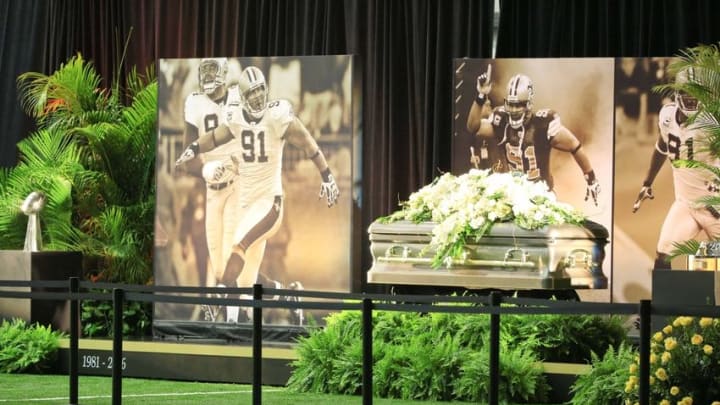 Apr 15, 2016; Metairie, LA, USA; A view of the casket of Will Smith during visitation hosted by the New Orleans Saints and the family of Will Smith for former NFL teammates, fans and guests wishing to pay their final respects to Will Smith at the Saints indoor practice facility. Mandatory Credit: Derick E. Hingle-USA TODAY Sports /
The folks at SI True Crime took a deep look at the Will Smith murder case, and some new information is being learned
Back in April, the NFL world was completely stunned to hear the news that former New Orleans Saints defensive standout Will Smith was murdered in New Orleans. It was a tragic incident caused by a traffic mishap, and the entire sports community immediately went into mourning.
Upon hearing the news, we learned that the murder suspect had been taken right into custody, that suspect being Cardell Hayes, a former college football player that was hulking in size. Right off the bat, he was painted by the media and the public as a complete monster, and you could make the argument at the time when you heard the initial details that they might have been correct in that regard.
However, there's always two sides to every story, and Richard O'Brien and the folks at SI True Crime did some digging into what took place that fateful evening, as well as the person that Hayes really is. Is he really this monster that people were portraying him to be because of what went down on that night in New Orleans?
Well, that might not entirely be the case, according to this investigation.
Kevin O'Neal, who was in the car with Hayes on the night the confrontation with Smith took place, paints his friend as a hero in some way.
"Cardell saved my life," O'Neal said.
He would go on to allude to the notion that Hayes is being painted in the negative light because of the fame that came along with Smith.
"This is New Orleans… People get killed down here every day and you don't hear nothing. Cardell stood his ground like you're supposed to be able to. They're putting one man's life above another man's life when everyone's supposed to be equal. This is all because Will Smith was an NFL star, not just another n—-."
There are various other quotes in the piece from people that have known Hayes for quite a while, and while some in the media will tell you he's been a monster for a while now, those closest to him give the SI True Crime team a different side of the story. There's also the revelation that former Saints running back Pierre Thomas was pretty involved in the situation as well, trying actually to calm Smith down during it all.
must read: Richest NFL Players of All-Time
To read the investigation in its entirety from the SI True Crime team, you can do that at this link here.
Will we ever know what actually took place that April night in New Orleans? No, probably not. However, it's more than interesting to learn a little bit more about the young man who is now charged with first-degree murder and attempted murder in the shooting of Smith's wife, Raquel.