3 reasons North Dakota State Bison should have been in Big 12 talks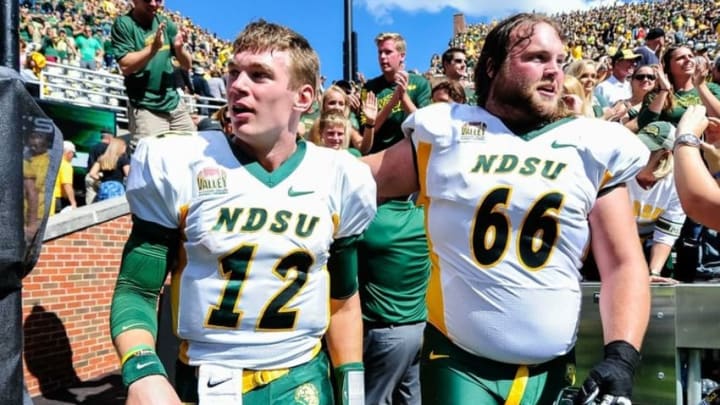 Sep 17, 2016; Iowa City, IA, USA; North Dakota State Bison quarterback Easton Stick (12) celebrates with guard Zack W. Johnson (66) after the game against the Iowa Hawkeyes at Kinnick Stadium. North Dakota State won 23-21. Mandatory Credit: Jeffrey Becker-USA TODAY Sports /
Sep 17, 2016; Iowa City, IA, USA; North Dakota State Bison linebacker Pierre Gee-Tucker (47) celebrates after the game against the Iowa Hawkeyes at Kinnick Stadium. North Dakota State won 23-21. Mandatory Credit: Jeffrey Becker-USA TODAY Sports /
2. The Bison beat FBS teams regularly
Scholarships, media market, and stadium capacity are what hurt North Dakota State more than anything in getting a Big 12 bid. All that glitz and glamor doesn't really matter for the Bison. They'll beat anybody on any given Saturday.
It's not just their dominance of the FCS level and Division III football before that which makes this football program so impressive. Just look at their record against FBS teams in the last decade.
North Dakota State has gone 9-3 in their 12 games against Division I opponents since 2006. Since 2010, the Bison are 6-0 against FBS opponents. They have beaten teams like the Minnesota Golden Gophers, the Colorado Buffaloes, the Iowa State Cyclones, and the Iowa Hawkeyes when they were the No. 13 team in the nation.
If the Big 12 were to add North Dakota State, the Bison would be better than both Kansas and Iowa State. North Dakota State might be in that Texas Tech, Texas, Kansas State level of the Big 12 hierarchy. The Bison play up to their level of competition. The Big 12 needs to be more competitive in the College Football Playoff era. Maybe the Bison could have helped in that regard?