Rubber pellets on field delay Steelers vs. Bills game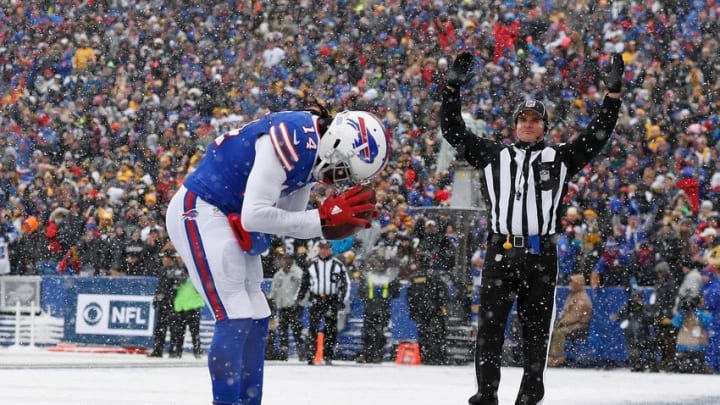 Dec 11, 2016; Orchard Park, NY, USA; Buffalo Bills wide receiver Sammy Watkins (14) celebrates after scoring a touchdown during the first half against the Pittsburgh Steelers at New Era Field. Mandatory Credit: Kevin Hoffman-USA TODAY Sports /
The Buffalo Bills' game against the Pittsburgh Steelers was delayed before the start of the second half because of the rubber pellets on the field.
NFL fans sure love snow games. However, it can be an absolute nightmare for the grounds crews at several northern outdoor stadiums. The Buffalo Bills' Week 14 home game against the Pittsburgh Steelers was played and impacted by snow. However, it's not the way we thought it would be.
Before starting the second half, the New Era Field grounds crew had to scurry to get all the rubberized pellets off the white markings on the field. This delayed the start of the second half by a few minutes.
The rubberized pellets are just part of playing on FieldTurf. Nobody really complains about playing in this surface, but frozen rubber isn't a good thing for players. Having them collect on the goal lines wasn't something that the officiating crew was cool with.
The New Era Field grounds crew had to blow off the pellets with snowblowers and even had a tractor help get the frustrating pellets off the field. It was a pretty quick turnaround by the Buffalo grounds crew. They worked diligently to get the second half under way as quickly as possible.
Playing in the elements is just part of the NFL in December and January. Buffalo prepares annually to have a snow game or two. The players and coaching staffs didn't seem to mind the delay. They wanted to play on the best surface possible.
Next: NFL Power Rankings: 30 Best QB of All-Time
However, seeing everybody in attendance continue to freeze in Orchard Park on television wasn't a great watch for the folks at home. The snow is impacting the game, but not grossly as it tends to do in this part of the season. It's a tight one with the Steelers up 14-7 on the Bills.