Jabrill Peppers not playing in Orange Bowl for Michigan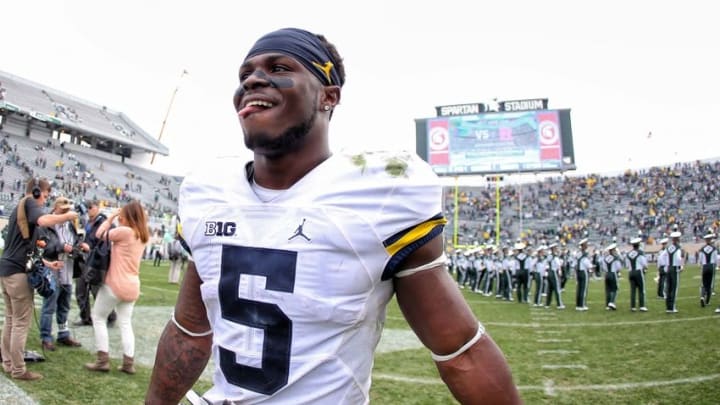 Oct 29, 2016; East Lansing, MI, USA; Michigan Wolverines linebacker Jabrill Peppers (5) walks off the field after a game against the Michigan State Spartans at Spartan Stadium. Mandatory Credit: Mike Carter-USA TODAY Sports /
Michigan Wolverines star Jabrill Peppers won't play against the Florida State Seminoles in Friday night's Orange Bowl
Jabrill Peppers was in New York City early in December for the Heisman Trophy ceremony. Though the versatile Michigan Wolverines star didn't win, there's no denying what he's capable of. Michigan head coach Jim Harbaugh has used him in numerous roles throughout the year and he's thrived in them all. But in the team's biggest game of the season, Friday night's Orange Bowl against the Florida State Seminoles, Peppers won't be at his disposal.
That's because Jabrill Peppers is sitting out the 2016 Orange Bowl.
While many players throughout college football have foregone their bowl games due to various ailments, Peppers comes as a surprise. The linebacker/safety/champion of versatility was slated to go, but reportedly came up with a hamstring injury in warmups. In the end, he was deemed not ready to go and was announced as out for the first of the New Year's Six bowl games:
Michigan entered the Orange Bowl as favorites over the Seminoles, but this could swing the line quite a bit. After all, Florida State's greatest weapon is their offensive prowess led by running back Dalvin Cook. Without Peppers at linebacker, that opens up a lot of room for the back and the rest of the Noles offense to work.
That said, Harbaugh's team is rife with high-quality talent on the defensive side of the ball. They'll still be able to make life difficult for Deondre Francois and the rest of Jimbo Fisher's crew. However, the absence of Peppers may ultimately put more onus on the Wolverines offense.
Next: Ranking The Top 25 College Football Dynasties Of All-Time
Most people had Michigan circled as the winners in this Orange Bowl matchup. With Peppers not playing, the confidence in the "Go Blue" pick has to waver a bit, though. Regardless of picks or anything else, though, we may have seen the last of the Michigan star in the collegiate ranks as he's projected to be a top-10 pick in the 2017 NFL Draft.