10 best NCAA Tournament Sweet 16 moments of all time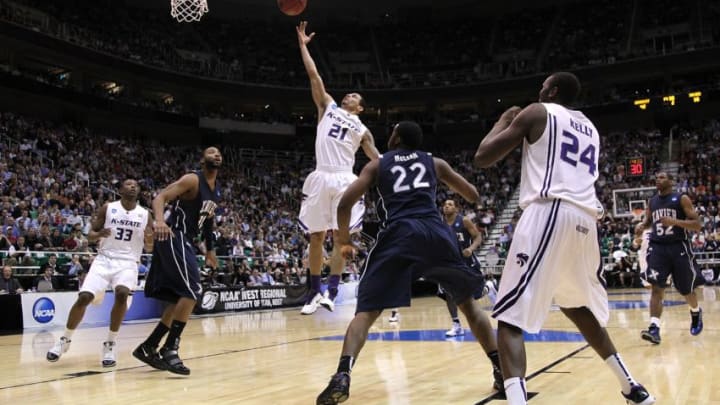 SALT LAKE CITY - MARCH 25: Denis Clemente /
DETROIT – MARCH 30: Stephen Curry #30 of the Davidson Wildcats directs the offense against the Kansas Jayhawks during the Midwest Regional Final of the 2008 NCAA Division I Men's Basketball Tournament at Ford Field on March 30, 2008 in Detroit, Michigan. Kansas won 59-57. (Photo by Gregory Shamus/Getty Images) /
The NCAA Tournament is a spectacle because it offers memorable moments at every stage and these are the 10 best from the Sweet 16.
The most notable stages of the NCAA Tournament are the first two rounds and the Final Four, but that doesn't mean the Sweet 16 and Elite Eight aren't worth tuning in to. Upsets or buzzer beaters can happen at any moment, and it's at this stage where we typically get our first heavyweight clashes.
With the Sweet 16, the teams that survived the hectic opening weekend are finally rested. It's a test to see which teams can refocus, and move on to the Elite Eight. We have seen some incredible basketball at this stage, but these are the 10 best moments.
10. Andre Turner's game-winner vs. Boston College – 1985
1985 was the first year the NCAA Tournament played under a 64-team field. When all was said and done, they never thought to revert back.
Memphis State's run to the Final Four was one that could best be described as exciting for the neutral, but gut-wrenching for the fans. They came into the Tournament as a No. 2 seed, and one of the favorites to go deep. After blowing past Pennsylvania in the first round, their next three games all came down to the wire. They beat UAB, Boston College, and Oklahoma all because of Andre Turner.
Turner hit three straight game-winners, but his one against Boston College in the Sweet 16 might have been the most memorable. While filling out brackets might not have existed in 1985, Memphis State was still on the verge of getting upset by an 11-seed. Up stepped Turner, who only had 10 points up until then. The final score was 59-57, and the Tigers advanced to play No. 1 seed Oklahoma.
Memphis State finally lost in the Final Four to Villanova, who went on to win as a No. 8 seed. But while Turner's legacy will live on, their wins were tarnished by head coach Dana Kirk, who faced charges due to tax evasion. As such, the NCAA vacated Memphis State's wins from 1982-1986 then banned them from the 1987 Tournament.