Jerry Lawler and Buff Bagwell commence in a feud during Game 6 of Spurs-Grizzlies (Video)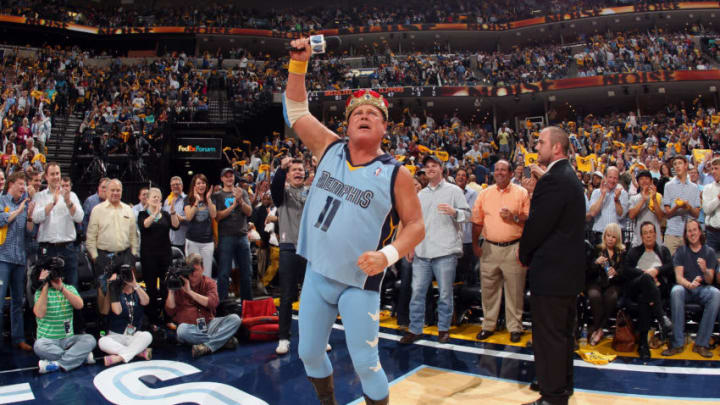 MEMPHIS, TN - APRIL 25: Professional wrestler Jerry 'The King' Lawler addresses the crowd in Game Three of the Western Conference Quarterfinals between the Los Angeles Clippers and Memphis Grizzlies during the 2013 NBA Playoffs on April 25, 2013 at FedExForum in Memphis, Tennessee. NOTE TO USER: User expressly acknowledges and agrees that, by downloading and or using this photograph, User is consenting to the terms and conditions of the Getty Images License Agreement. Mandatory Copyright Notice: Copyright 2013 NBAE (Photo by Joe Murphy/NBAE via Getty Images) /
Jerry Lawler, better known as "The King (of Memphis)", was in the house for Game 6 of the series between his Memphis Grizzlies and the San Antonio Spurs on Thursday night. Unfortunately for him, so was Buff Bagwell and (the) stuff got real.
If Jerry Lawler was voted in as the mayor of Memphis, there's not many that would question it. (I mean, Kane is trying to make a living in politics now, so it would make sense, right?)
If I said Buff Bagwell, you would immediately think two things: 1) WCW will live on forever and 2) Buff is in fact, the stuff. ("Fo-fo-fo-fo-FO' LIFE" would've been acceptable here, too.)
Now, picture this.
It's Game 6 of the first round series between the San Antonio Spurs and Memphis Grizzlies at The Grindhouse in Memphis on Thursday night.
(Wait, where are you going? You haven't heard the whole story yet.)
OK, picture this: Buff Bagwell looks like he could still throw on a mean headlock and then a flex and he hits Lawler with a steel chair, would you believe me? Of course you would because it totally happened.
https://twitter.com/929espn/status/857782248455757824
Lawler, in a personalized Mike Conley jersey fit for him, was yelling at an associate of Buff Bagwell (that was not Virgil unfortunately) and then Buff Bags went to work.
Buff not only hit Lawler with a chair, he asked the FedEx Forum crowd, "How's that for your dataaaaaaa?"
Playing off David Fizdale's "Take that for data" line, Buff? You haven't lost your heelish ways and it's beautiful.
But wait, there's more. (There's always more. It's a pro wrestling thing. There's always more.)
As Buff went to taunt the home crowd once more, Lawler and the Grizzlies mascot, Grizz, took to exacting some payback for the chair shot.
Yes, Grizz and Lawler set up not one, but two tables and took out Bagwell's partner in crime with a big splash through two tables because one table is overrated. If you're going to do big in an elimination game, you do it big, Memphis.
The splash didn't exactly pan out, but the Memphis duo got the upper hand on Bagwell and his associate because you have to send the fans home happy. This is a house show principle. It's simple wrestling.
The Grizzlies were eliminated by the Spurs in Game 6, but the important thing here is that the Monday Night Wars are still running in 2017. What a time to be alive.