20 little-known facts about Gennady Golovkin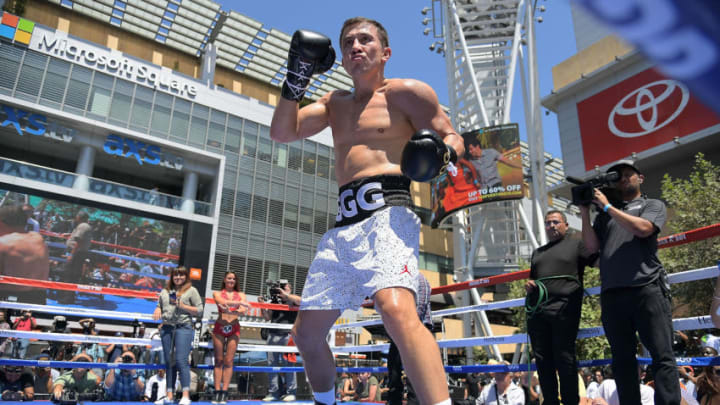 LOS ANGELES, CA - AUGUST 28: Gennady 'GGG' Golovkin hosts fans for an open workout at LA LIVE on August 28, 2017 in Los Angeles, California. Chivas Regal has teamed up with GGG for The Chivas Fight Club, an initiative centered on boxing that extends to every individual with a fighting spirit from communities nationwide. (Photo by Charley Gallay/Getty Images for Chivas Regal) /
On September 16, Gennady Golovkin will finally get his chance to officially become the lineal middleweight champion when he faces Saul "Canelo" Alvarez in boxing's most significant fight. Here are 20 compelling facts about the affable Golovkin.
After the spectacle that was Floyd Mayweather Jr.-Conor McGregor, boxing is set to get back down to business with a matchup that oozes both substance and star power, with the former actually taking precedence in this case. Gennady Golovkin finally luring Canelo Alvarez into the ring is the fight boxing fans, forever jilted, deserve.
Since turning professional shortly after the 2004 Olympics, Gennady Golovkin (37-0, 33 KOs), who made his American debut in 2012, has crafted a methodical rise to the sport's pinnacle, running roughshod over the middleweight division's contender scrapheap while often struggling — thanks to his combination of technical precision, stifling pressure and frightening power — to lure elite competition into the ring.
Despite some frustrating stretches at the negotiating table, Golovkin has remained positive and proactive. He's burnished his fighting reputation with sickening knockouts and sustained activity, all while developing a marketable persona thanks to his boyish grin, catch phrases like "good boy" and "big drama show," as well as his cleverly promoted coopted "Mexican style."
K2 Promotions' Tom Loeffler has also shown brilliant foresight and longterm planning in his handling of Golovkin, securing mainstream endorsements for his charge without the notoriety that comes with being a Pay-Per-View attraction. Most importantly, Loeffler has doggedly pursued the best possible fights for Golovkin and gotten creative (see: Kell Brook) when options seemed limited or non-existent.
With that, here are some tidbits about Gennady Golovkin heading into what will likely hold up as the defining fight of his career.