What channel is Canelo vs. GGG on?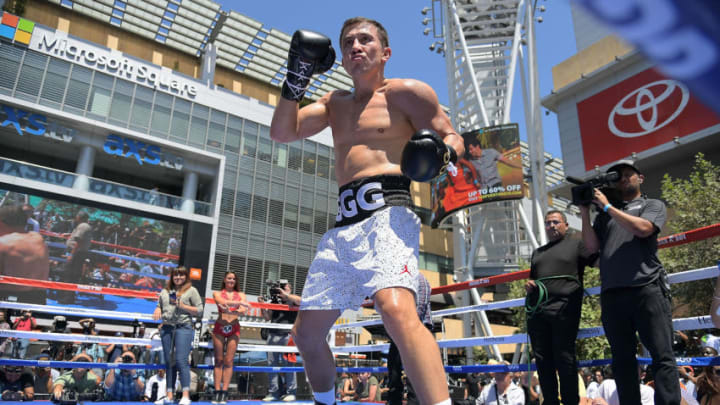 LOS ANGELES, CA - AUGUST 28: Gennady 'GGG' Golovkin hosts fans for an open workout at LA LIVE on August 28, 2017 in Los Angeles, California. Chivas Regal has teamed up with GGG for The Chivas Fight Club, an initiative centered on boxing that extends to every individual with a fighting spirit from communities nationwide. (Photo by Charley Gallay/Getty Images for Chivas Regal) /
Canelo Alvarez vs. Gennady 'GGG' Golovkin is expected to be a major event in the fight capital of the world. But what channel can viewers find it on?
After Oscar de la Hoya openly slammed the spectacle between Floyd Mayweather and Conor McGregor, he'll get a chance to promote his own fighter as he takes on the most feared middleweight in the world, Gennady Golovkin. Only trouble is, he may have inadvertently driven away attention to his fight with his negative comments.
But anyone who knows how good Canelo Alvarez and GGG are will be tuning in. After negotiations for this fight turned into a will-they-or-won't-they saga for the past two years, the two sides finally agreed to a deal. For boxing fans, that's a big win after they had to endure the soap opera that was the Floyd Mayweather-Manny Pacquiao negotiations.
While every boxing die-hard will be watching this fight, some may be tuning in to see these guys for the first time. As such, they'll want to know what channel it's on. As is the case with Canelo's recent fights, it'll be shown on HBO pay-per-view for the cost of $60. Ever since he signed a long-term deal with HBO, he's been their Golden Boy (pun definitely intended).
Bcause it's on HBO PPV, you essentially need a TV provider in order to watch it. The fight won't be streamed on HBO Now or Sling TV, so if you don't have cable, your best bet might be to go to a bar or a local movie theater. There will be no shortage of venues looking to show the fight.
Next: Best Boxer From Each State In America
But despite that, this fight should be a lock for at least 1 million buys. Every time Canelo fights in Mexico, it feels like a home advantage. But GGG has achieved cult status wherever he goes, so don't be surprised if there's a sizable contingent on hand rooting for him.