WWE Survivor Series: 3 reasons Brock Lesnar beats AJ Styles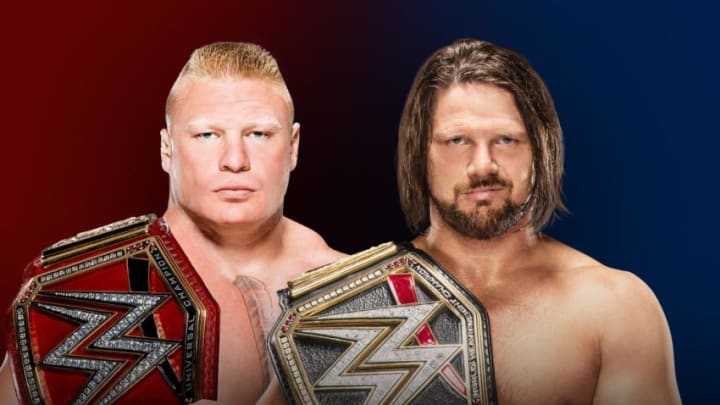 Credit: WWE.com /
Brock Lesnar will face AJ Styles in a Champion vs. Champion match at WWE Survivor Series 2017, and here's why the Beast Incarnate will win.
There's no question that WWE Survivor Series is going to have star power at every single angle. Whether it's the tradition Survivor Series match between Team RAW and Team SmackDown Live, one of the many matches on the undercard, or something else, all the big names are involved. However, it's the Champion vs. Champion match between Brock Lesnar and AJ Styles that has everyone buzzing.
Frankly, it's hard to blame fans for being excited about this one. These are two of the best in professional wrestling as a whole — even if Lesnar has grown tiresome and formulaic to some in recent years. However, whenever you have this type of match and two stars of this caliber, it raises questions about how things will play out.
That's because, with two superstars that carry this type of clout, there are positives for either guy winning. There would undoubtedly be benefits for Styles to win, but so too if Lesnar were to be victorious. Subsequently, making predictions about how things will transpire can be difficult.
With that being said, though, all of the right signs point to Brock Lesnar on Sunday night at WWE Survivor Series. Here are three reasons why that's the case.
3. Continuity with booking
Some fans love it, others hate it, but one thing that has been consistent throughout WWE in recent years has been the notion of 50-50 booking. If two guys have two matches against one another and are on the same "tier" in terms of their place on the card, it's a safe bet to say that they are going to split those two matches, each picking up a win.
With that said, there has been on exception to this notion of 50-50 booking: Brock Lesnar. That's not been happening by mistake either. Be it because of his star-power, his mainstream appeal or even how much the company is paying him to wrestle, Lesnar has been booked like the mountain that no one can conquer. Think of him like Mount Everest prior to Sir Edmund Hillary making his climb.
What incentive does the company now have to change the way that they've been booking Lesnar at this point as it pertains to this WWE Survivor Series main event? Sure, it's be great to see Styles get the win, but what purpose would that ultimately serve? It gets Styles a bit more credibility, but that's not something he really needs (more on that in a bit).
More importantly, it would completely derail the years-long plan that they've had for Lesnar. He's not been booked in the manner that he has been by mistake. And having him fall to Styles would only serve to mess that up.