5 positive thoughts Cleveland Browns fans should focus on after going 0-16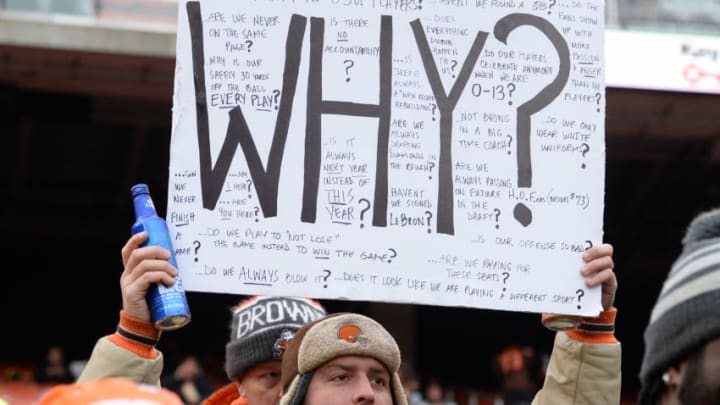 CLEVELAND, OH - DECEMBER 17, 2017: A fan of the Cleveland Browns holds up a sign prior to a game on December 17, 2017 against the Baltimore Ravens at FirstEnergy Stadium in Cleveland, Ohio. Baltimore won 27-10. (Photo by: 2017 Nick Cammett/Diamond Images/Getty Images) /
CLEVELAND, OH – NOVEMBER 19: Myles Garrett No. 95 of the Cleveland Browns celebrates a fumble recovery in the third quarter against the Jacksonville Jaguars at FirstEnergy Stadium on November 19, 2017 in Cleveland, Ohio. (Photo by Gregory Shamus/Getty Images) /
2. Myles Garrett is still a potential top defensive player
There are plenty of things that need to change on offense, but let's not forget that Myles Garrett is a special talent. Everything that went wrong with Cleveland this season doesn't change the fact that Garrett has the potential to be a top defensive talent in football in a few years. That's something for Cleveland to build around moving forward and is completely independent of all the other issues the team has.
Even if Jackson is retained and brought back to walk the Green Mile in 2018, Garrett's development is something all Browns fans should be invested in. While a franchise quarterback is what all teams want, the Browns at this point are fine settling for a franchise player. Never in the team's recent history (dating back to 1999 when they became a franchise — kinda — again) have the Browns been able to tout a superstar player. Braylon Edwards is as close as they've come and even he wasn't spectacular before being traded for spare parts to New York.
Garrett is a world-class talent that the Browns can build a stout defense around. This year was a waste, but the experience of going 0-16 is a fire that could ignite some serious battle-tested leadership by the Browns first superstar in a very long time.