Q&A with Frank Ntilikina: Nicknames, NBA adjustments and New York pizza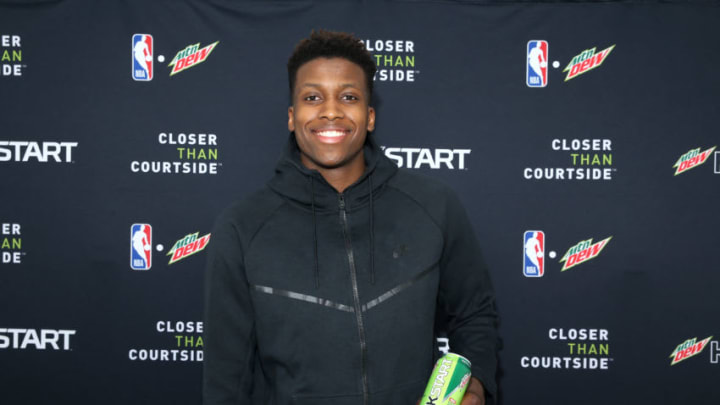 LOS ANGELES, CA - FEBRUARY 18: Mtn Dew Kickstart Rising Star Frank Ntilikina at Mtn Dew Kickstart Courtside Studios at NBA All-Star 2018 in Los Angeles, Sunday, February 18, 2018. (Photo by Phillip Faraone/Getty Images for Mtn Dew NBA All-Star Weekend) /
It's been a harrowing season for the New York Knicks, currently 23-36 and jockeying for ping-pong balls. However, rookie guard Frank Ntilikina offers the silver lining of hope for the future.
Ntilikina got invited to this past weekend's All-Star festivities, competing in the Rising Stars Game. Mountain Dew Kickstart is the new presenting sponsor of the Rising Stars Game, and they are partnering with up and coming players like Ntilikina to evolve Rising Stars into a yearlong program.
Ntilikina spoke with The Step Back's Paul Centopani from the Mtn Dew Kickstart Courtside Studios where he was interacting with NBA All-Star fans and showcasing his off the court lifestyle. From now until March 19, fans can participate in the #CourtSidekickContest. Ntilikina spoke about his rookie season and the adjustments he's making in the NBA and life in the U.S.
Paul Centopani: Congratulations on getting in the Rising Stars game on Friday night. I'm also a Knicks fan and I'm glad you're on the team.
Frank Ntilikina: Thank you so much.
PC: There's a bunch of nicknames out there for you. People are calling you Frankie Smokes, Frank Nicotine, the French Prince … What do you like the best?
FN: I think they're all good, but the one I like most is the French Prince.
PC: What do your family and friends call you?
FN: They use different nicknames. My teammates call me French Toast, or French Fries, or French Montana, or yeah French Prince. The one that I hear the most is French Prince.
PC: Who on the Knicks do you hang out with the most?
FN: I would say Kristaps Porzingis.
PC: The unicorn himself, that's good. What's the biggest adjustment to being in New York compared to France?
FN: I think it's feeling all the fans and vibes that are around the team. The Knicks have so much history in New York and being on this team, it's like being on a stage. And you want to do great for the fans and for this city.
PC: Oh yeah for sure. The fans are great, and definitely a little crazy. What part of the city do you live in? Are you living in the city?
FN: Nah, I'm living in Westchester.
PC: Oh you gotta get in the city. It's a lot of fun. No shots at Westchester, of course.
FN: [laughs] Yeah, I will maybe in the future.
PC: Aside from New York, because it's obviously the best, what's your favorite U.S. city you've been to?
FN: I like Los Angeles. It's really nice. It's on the warmer side, the weather is very nice. And there's lots to see there also.
PC: What is your favorite French food?
FN: I will say … something that isn't here that much. Like for breakfast, the croissants, all the things the French people make in the mornings. Pain au chocolat and stuff like that. I miss that a lot. That's my favorite.
PC: So the other side of that question, what's your favorite food in the U.S.?
FN: I think just being in New York, the pizza is amazing.
PC: Oh yeah, you can't beat it. You're talking to an expert on the subject, so if you ever need recommendations, let me know. So what's the part of your game you're working on the most and would like to see improve?
FN: I think I would like to improve all parts of my game and be the best player I can become in the future. The one I'm working on the most now is my offensive game, getting more feel and being more comfortable on that side of the court. It's gonna pay off in the future, so I'm excited about it.
PC: What was the most difficult adjustment from playing in the French league to the NBA?
FN: I think it's the style of the game. Over there it was more like a passing and slashing style of game and building your IQ. Here people are more skilled and athletic so it's more like just go, play and show your skills. Go to the basket, get more shots. It gives the game a faster pace. It's very interesting and I love it.
PC: So the Knicks just got Emmanuel Mudiay, and you both speak French, so I'm sure it's nice to have a guy with a similar background. Before did you have difficulty communicating with teammates because of the language barrier?
FN: In the beginning, a little bit. But after like two weeks, it was alright. With Emmanuel coming here, we'll speak French together on the court. So sometimes the other team cannot understand what we're saying, so we'll have some little tricks. But it's big to have someone who speaks the same language on the team with me in New York.
PC: That's gotta be a big advantage for you guys. Were you a big Tony Parker fan?
FN: Yes. Tony's the best, I think the best player French player in their history. He did a lot of great things for the French national team also. So growing up he was a role model.
Next: Q&A with Dennis Smith Jr.: Dunk contest, Bojangles and learning from Dirk
PC: Were there any American movies or TV shows you watched growing up?
FN: Yeah, I liked that TV show How I Met Your Mother.
PC: Yeah sure. Alright, Frank, thank you so much for your time, man. Good luck.
FN: No, thank you thank you.