NCAA Tournament 2018: 5 biggest snubs on Selection Sunday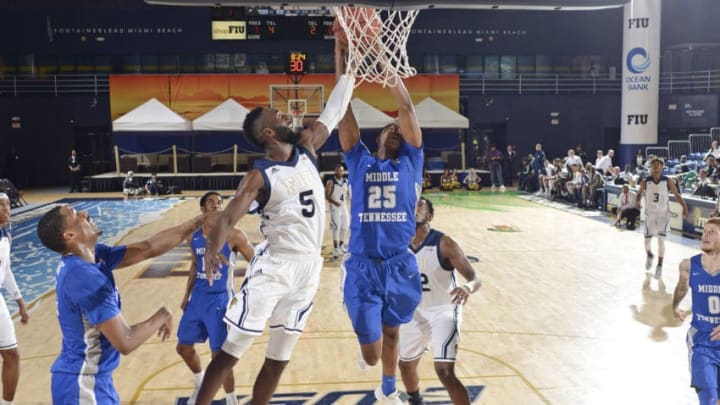 MIAMI, FL - JANUARY 04: FIU guard Eric Lockett (5) and Middle Tennessee forward Karl Gamble (25) reach for a rebound during a college basketball game between the Middle Tennessee State University Blue Raiders and the Florida International University Panthers on January 4, 2018 Florida. Middle Tennessee defeated FIU 71-66 in overtime. (Photo by Richard C. Lewis/Icon Sportswire via Getty Images) /
SOUTH BEND, IN – FEBRUARY 19: Head coach Mike Brey of the Notre Dame Fighting Irish is seen before the game against the Miami (Fl) Hurricanes at Purcell Pavilion on February 19, 2018 in South Bend, Indiana. (Photo by Michael Hickey/Getty Images) /
5. Notre Dame Fighting Irish
For those of you hailing from South Bend, Indiana, you likely feel slighted by the NCAA tournament Selection committee. Instead, you should be grateful that the powers to be had you in the field, until the Davidson Wildcats "stole" your spot.
Record: 19-14 (vs. Division 1 opponents)
RPI Ranking: 70
Conference (ACC) RPI ranking: 3
SOS: 46
Non-Conference SOS: 174
Quality wins against RPI Top 100: 
LSU (92)
Wichita State (16)
NC State (64)
Virginia Tech (61)
at Syracuse (49)
Florida State (54)
at Boston College (95)
Their resume boasts a few nice wins, but only one marquee victory (Wichita State). The injury to Bonzie Colson cost them a bid, where they would have certainly won a few of those marquee ACC contests. I can't believe I'm saying this, but the committee got this one right. Notre Dame did not belong in this year's field, and they should feel warm and fuzzy they were so highly thought of by the committee.