When is the 2018 NCAA Women's Final Four?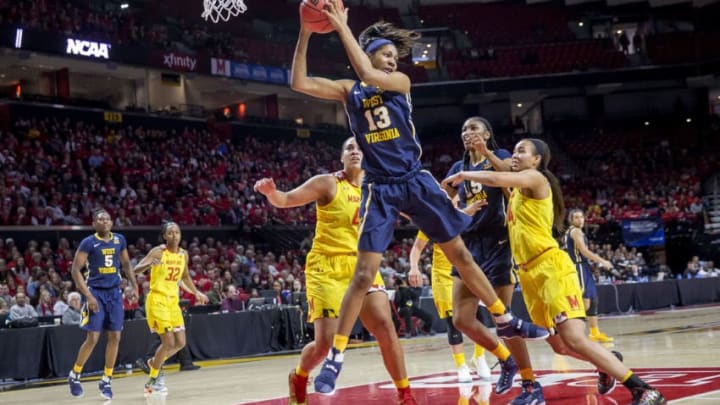 COLLEGE PARK, MD - MARCH 19: West Virginia Mountaineers forward Kristina King (13) pulls down a rebound during a Div. 1 NCAA Women's basketball 2nd. round game between Maryland and West Virginia on March 19, 2017, at Xfinity Center in College Park, Maryland. Maryland defeated West Virginia 83-56. (Photo by Tony Quinn/Icon Sportswire via Getty Images) /
March Madness is here and the Road to the 2018 NCAA Women's Final Four begins as soon as the field of 64 teams is set. Here's what you need to know!
It's time to get ready for the 2018 NCAA Women's Final Four. As soon as the 64 teams teams are announced at the Selection Show, the battle for the National Championship title begins. It's a three week process from First Round action to the Final Four, but it's three solid weeks of nonstop college hoops so we're not complaining.
The 2018 NCAA Women's Final Four takes place at the Nationwide Arena in Columbus, Ohio, on March 30, with the national championship game taking place April 1. The semifinal games will take place at 7pm ad 9:30pm ET on March 30, while the title game will be at 6pm ET on April 1.
Undefeated UConn punched its dance card with a win in the AAC, confirming that they will be in the hunt for the title. 31 other teams that also won their conference tournaments have punched their cards, but it's the other 32 teams that make the conversation interesting as their season records and strength of schedule is considered for an at-large bid and a shot at the Big Dance.
The March Madness action officially begins with the Selection Show on Monday, March 12. This is when the teams find out where they're going for the First and Second Rounds. The Selection Show starts at 7pm ET on ESPN.
Next: 28 Most Memorable Buzzer Beaters in March Madness History
The First and Second Round action begins on March 16, with games played March 16-19 at sixteen sites around the country. From there, the field of 16 teams will be set in time for regionals, which takes place March 23-26 with the Sweet Sixteen and the Elite Eight. The four sites for Regional are Lexington, Kentucky (Rupp Arena), Kansas City, Missouri (Sprint Center), Albany, New York (Times Union Center), and Spokane, Washington (Spokane Veterans Memorial Arena).