Manchester United need patience and clarity to solve Alexis Sanchez dilemma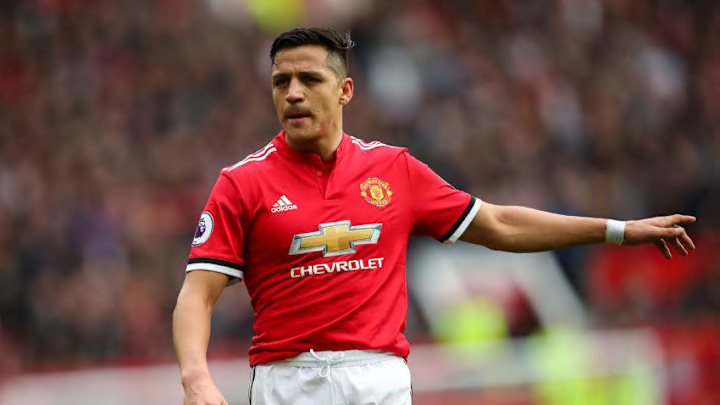 MANCHESTER, ENGLAND - MARCH 10: Alexis Sanchez of Manchester United during the Premier League match between Manchester United and Liverpool at Old Trafford on March 10, 2018 in Manchester, England. (Photo by Robbie Jay Barratt - AMA/Getty Images) /
Manchester United need patience and clarity to solve their Alexis Sanchez dilemma.
Jose Mourinho's words made perfect sense when he recently offered a defense of Alexis Sanchez and the player's slow start to life at Manchester United. Yet it was telling Mourinho felt the need to defend Sanchez at all.
The Chilean only swapped Arsenal for United late in the January transfer window. He's played just eight games, but questions are already being asked about where Sanchez should play and if he can adapt to Mourinho's philosophy.
Mourinho offered this answer to the critics, per Jamie Jackson of the Guardian:
"What is wrong is that he came at the worst moment – in the winter market. That's why I don't like the winter market very much. I think this was a chance that we didn't want to lose and we made it.But we don't believe a lot in the winter market. And next season it will be better for him. But, of course, he is learning how to play with us and we are learning how to get the best out of him."
Mourinho's attempt to deflect criticism came shortly before Sanchez's latest drab performance, as United beat Liverpool 2-1 in the Premier League on Saturday. Mourinho played Sanchez as a No. 10 in another attempt to solve the dilemma of finding the mercurial forward's best fit.
The results were far from spectacular, though, with Sanchez largely anonymous, but mistake-prone on the rare occasions he did see the ball.
ESPN FC's Rob Dawson was sarcastic, but not wide of the mark, in his assessment of Sanchez and his performance:
Even so, Mourinho is right. Sanchez does need more time, and he's too good a player not to eventually make the grade for the Red Devils.
Sanchez will come good, but he'll need something more than Mourinho's patience. He'll also need clarity from his manager about where he belongs in United's best XI.
Putting Sanchez in a No. 10 role may appeal to many, particularly given the South American's astonishing vision for a through pass.
However, any central midfield role demands efficiency, something Sanchez has always lacked. He was too often swamped in the midfield mixer against Liverpool.
The problem was asking the 29-year-old free-spirit to do a defensive job.
Mourinho explained afterwards what he'd tasked his central trio to do, per Samuel Lukchurst of the Manchester Evening News:
"Today we thought that to bring Alexis to that position could be a good link with Lukaku, could be also a way to stop Can or Henderson, depending on Jurgen's choice for their number six. Stop them to play a little bit, because they have to worry with him."
Mourinho's words speak to the inherent philosophical difference between himself and Sanchez's previous manager. Arsenal chief Arsene Wenger does grant his attacking talents more freedom, while Mourinho keeps faith in pragmatism over purity.
Wenger's improv approach to team structure was perfect for Sanchez and his riff-with-it style of play. Such freedom helped yield some spectacular numbers in three-and-a-half seasons, per BBC Sport:
Trying to get a fluid attacker with a wanderlust spirit to conform to a more rigid set of rules is always going to be a tough needle for United to thread. It will require a compromise from a manager who has occasionally been uneasy about indulging so-called "luxury players.'
It didn't work with Arjen Robben at Chelsea, despite the Dutchman inspiring Mourinho's title wins in 2005 and '06, before taking his talents to Real Madrid then Bayern Munich.
Even Mourinho's time at Real (no surprise, post-Robben) working with Sanchez's former Arsenal team-mate Mesut Ozil proved tricky. Sure, the German playmaker occasionally thrived in a team built around the pace and movement of Cristiano Ronaldo.
Yet Mourinho always kept Ozil and his duplicitous flair on a tight leash. He regularly substituted his No. 10 between the 60-80 minute mark during matches.
Sanchez, as his time at Arsenal proved, hates to be hauled off and forced into a cameo role.
Still, it's too easy to explain away Sanchez's struggles by simply citing the contrast in style between Mourinho and Wenger.
The problem of position is just as great.
Sanchez is a player who likes to  pick his spots, either out wide, through the middle or deeper. They are decisions he makes based on a spontaneous and intuitive response to how the pace and pattern of play unfolds in front of him.
Mourinho's minute planning may prove too restrictive for Sanchez. But he's also a tough fit alongside similarly minded free spirits such as Paul Pogba and Jesse Lingard.
Like Sanchez, Pogba likes to go where he pleases, roaming from the central areas to the left flank or beyond the striker. Pogba's penchant for emptying the middle has left United vulnerable more than once this season.
Sanchez and Pogba want to forage for the same spaces and occupy identical pockets. The same is true of Lingard, whose instincts for switching positions in games are akin to Sanchez's ad-lib streak.
Next: United 2-1 Liverpool: 3 things we learned
Too many freelancers don't always form a shape-shifting and inventive whole. They can also create chaos, and not the organised kind Mourinho covets.
United and Mourinho shouldn't worry too much, though. None of Sanchez's problems are anything new.
For all his success at Arsenal, putting Sanchez in the right spots was a frequent problem for Wenger. He played on the left in 2014-15, his preferred position thanks to the license it affords him to turn onto his right foot.
Sanchez scored 25 goals during his debut season in England. But he was moved onto the right during the second half of his next campaign.
He spent most of his third season operating as a No. 9, before returning to the left.
As for Sanchez giving the ball away, United fans had better get used to it. Any Arsenal supporter brave enough keep track of how many times the Chile international would lose possession probably needed to hire an assistant to handle the workload.
What United need is to put Sanchez into the positions where he can still score and assist enough, few will remember how often he lost the ball.
It's surprising Mourinho's attempts to strike the right balance haven't led to a run of games for Sanchez on the right flank. The position has been a problem this season, but it's one United's tough-to-define No. 7 could solve.
Sanchez enjoyed his best scoring run at Barcelona in 2013/14, operating on the right. He was also exceptional for the Gunners during the final months of the 2015/16 season.
Putting Sanchez on the right would let United start Marcus Rashford, the two-goal hero from the left against Liverpool, more often. It would also encourage greater fluidity across United's forward line.
One of the problems Sanchez had at Arsenal was combining with center-forward Olivier Giroud. The Frenchman was usually a static figure in the box, filling the spaces Sanchez loved to ghost into.
With Romelu Lukaku becoming the central battering ram Mourinho likes to lean on, United could be headed for a similar problem. However, Lukaku is more mobile than Giroud and likes to peel onto the right when he's being denied room through the middle.
Dovetailing these movements with Sanchez and his desire to drift centrally can give the Red Devils a deadly one-two punch. It's how Karim Benzema and Ronaldo often rotated on the left flank for Mourinho at Real.
Solving Sanchez's sluggish start to his United career will require patience. But a clearer plan of where he will start matches and how he will combine with those closest to him will be just as important.