NFL free agency update: Jets sign Avery Williamson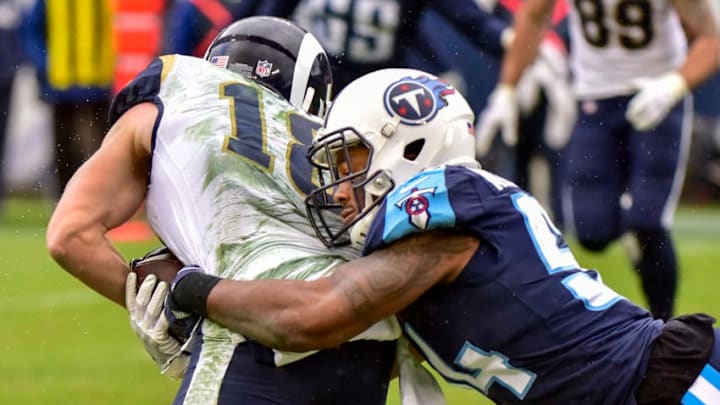 NASHVILLE, TN - DECEMBER 24: Wide Receiver Cooper Kupp /
Who would have guessed the New York Jets would have the best offseason of any team in the NFL?
If you pegged the New York Jets as having the best offseason of any NFL team, you probably work in the Jets front office. Last year, New York soared over expectations (that couldn't have been lower) and managed to get themselves in the Wild Card hunt for a brief time.
Considering the team was supposed to contend for the No. 1 pick in this year's Draft, winning even a little was a shock. Leave it to the Jets to continue surprising us all. Before free agency even officially opens, the Jets have put together one of the most impressive offseasons among any team.
Within the span of a few hours, the Jets added Trumaine Johnson (the top-ranked free agent cornerback) and Avery Williamson (A top-10 linebacker). Add to that the signings of Isaiah Crowell, Josh McCown and Teddy Bridgewater, and New York's fortune is starting to look very different in 2018.
Contract details
We don't know the specific details of the contract, but Williamson was highly coveted on the free agent market and ranks among one of the best linebackers in the class.
National reaction
That market ended up being New York, as the Jets have themselves a seriously dangerous fit for their 3-4 scheme.
Next: 2018 NFL Free Agent Tracker
Grade
Williamson might feel like a lowkey signing for the Jets given their haul as a whole, but he could end up being the best of the bunch. He fits perfectly into what Todd Bowles is trying to do defensively, and adds pack to the middle of the secondary punch New York is crafting. With Johnson on the outside at corner, Jamaal Adams hanging back at safety, and Williamson plugging the middle, New York is going to be nastier than people will give them credit for next season.
Grade: B+