League Pass Favorites: Klay Thompson makes the inevitability of the Warriors bearable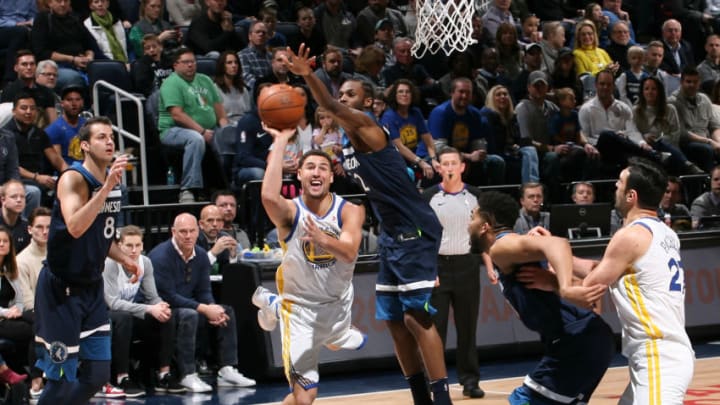 MINNEAPOLIS, MN - MARCH 11: Klay Thompson /
Now, wait a minute. Before you come breathlessly denouncing me, my friends, my family, the ground on which I walk or the brand of antiperspirant I use (Old Spice, mostly, although it depends on what's on sale that week) regarding my selection of a member of the NBA team with 31 national television appearances, the most of any this season, for this exercise, I kindly ask you, as Bill Nye would, to consider the following: what makes for great League Pass fodder? What is it that makes you, the avid or casual NBA fan, tune into a random game on a Monday in the middle of December, devoid of team allegiance or any other externality?
If it is purely to take in a team you don't see too much of otherwise, then bravo, but good luck talking about that Suns-Grizzlies game at the water cooler the following day. What makes Golden State the perfect national television team is both exactly and the opposite of what makes them the perfect League Pass team — their game is beautiful, their unfair pick-and-roll combinations force opposing defenses to pay crucial attention during a game they'll lose by 30 and leave nothing to chance as a viewer and their mid-season lulls allow for a remote possibility of anything happening.
As inevitable as Golden State's menacing machine can be, Klay Thompson is and always will be as underrated as an All-Star can be. But for his Splash Brother Stephen Curry, Klay might already be regarded as the greatest shooter in NBA history. Klay's consistent unpredictability is what lends an otherwise predictably efficient, frustratingly clean Golden State team its color, at this point. What Steph Curry used to be – a man randomly (but usually) on fire, out to shoot the light out of the sun – has been normalized. We came to expect it by the time of his second MVP campaign.
Klay's excellence is similarly routine – he averages around 19 points per game and has hit over 40 percent from 3 in each of his seven NBA seasons (2017-18 through Tuesday). But his notoriety grew the way Curry's did after the latter put up 54 points at Madison Square Garden in 2013. Short bursts, easily digestible YouTube videos and eye-melting stat lines became Klay's bread and butter.
The possibility of Klay breaking out at any time is as much of what makes Golden State worth watching against almost the entirety of the NBA as anything. Focusing in on him during any game is a worthwhile exercise, given that he leads his team in total distance covered this season. On defense, he flurries around a pick, dodges another and arrives just in time to expertly challenge a shot. On offense, well – there's a reason Klaytheism is shorthand for believing in the unbelievable at this point.
His NBA record 37-point quarter in January 2015 against the Sacramento Kings is positively breathtaking, which is good because you'll only have to hold your breath for a little over two minutes if you watch the compilation video of all 13 shots he took and made. That quarter started with a rare Klay drive-into-a-midrange jumper, and with Klay, that's all it takes. A floater here, a layup there, and before you know it, Klay's got 15 points in four minutes (and none of this is even accounting for the 60-point performance in December 2016, when he held the ball for all of 90 seconds and dribbled a mere 11 times). Klay is a text alert All-Star, too. Once he revs up, get to the nearest viewing device and settle in.
Next: League Pass Favorites: Kelly Oubre, Chaotic Good
Since Kevin Durant's arrival, following Klay's other marquee performance in Game 6 of the 2016 Western Conference Finals against Durant's Oklahoma City Thunder, Golden State's entire roster has essentially adopted an outwardly nonchalance regarding everything. They laugh at haters; they hate losing, so they don't do it often; they are better than you, and they know it. This has been the Warriors' modus operandi for almost two full seasons, and Durant has plenty to do with the rusting of Steph Curry's golden boy image among fans.
With Klay, however, it seems different. Klay always acted like he didn't care; visibly, at least, he looks roughly as excited about burying a 3-pointer in triple coverage as he might upon finding out that his credit score has risen by three points.  Whereas Steph always tries to get the crowd involved, Draymond jaws relentlessly and Kevin Durant plays an antagonist like he's trying out for Shakespeare in the Park on a dare, Klay simply shoots, his concerns resting as closely to the bottom of the basket as to the bottom of a bottle of Coors Light.