Brand new Rhode Island fans take to Twitter to express joy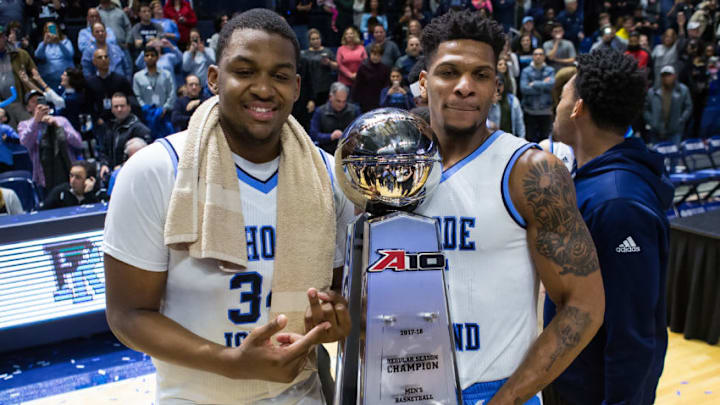 KINGSTON, RI - FEBRUARY 23: Rhode Island Rams forward Andre Berry (34) and Rhode Island Rams forward Ryan Preston (5) pose with the trophy at the conclusion of the college basketball game between Dayton Flyers and Rhode Island Rams on February 23, 2018, at the Ryan Center in Kingston, RI. Rhode Island defeated Dayton 81-56 and wins the Atlantic 10 regular season title. (Photo by M. Anthony Nesmith/Icon Sportswire via Getty Images) /
The Rhode Island Rams bandwagon bus is about to get full.
If you were ever looking for a bandwagon bus to get on during the NCAA Tournament, look no further than the Rhode Island Rams.
They pulled out an early stunner, beating an Oklahoma Sooners club that basically went off a cliff after a fast start to the season. The Rams wore warmup shirts that said "We Came Here to Dance," and that did just that, all over the over-matched Sooners' faces.
Now that the Rams have nearly destroyed many brackets, it's time to start rooting for the underdogs, and the Dancin' Rams are certainly fitting the bill.
With any Cinderella, there must be bandwagon fans, those souls whose teams are either in the NIT or sitting home (once again) watching the all of the Madness. Here's a Twitter snapshot of the Rhode Island Rams' bandwagon bus that is on the verge of having its "Bus is Full" light turned on.
You can just feel the excitement coming from this tweet.
https://twitter.com/Tanner_Maurice/status/974355684862111744?ref_src=twsrc%5Etfw
You get the sense that he's an Oklahoma State Cowboys fan.
The sheer brilliance of this tweet is blinding.
No, they wouldn't have.
Signed, the guy that didn't pick Rhode Island last year.
Now, now, let's not get too far ahead of ourselves.
Next: Best college basketball player from every state
Whatever bet Nick Sparr got himself involved in thanks to this game, God help him.