Playoff-hungry Los Angeles Kings host rebuilding Detroit Red Wings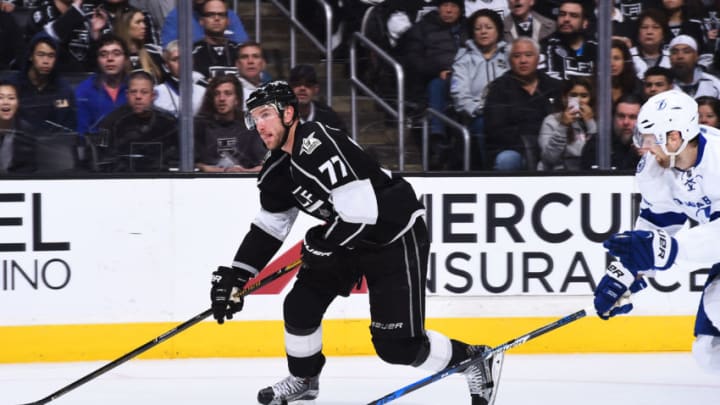 LOS ANGELES, CA - JANUARY 16: Jeff Carter /
The Los Angeles Kings are in possession of an NHL playoff spot. The Detroit Red Wings…are not. The two face off Thursday at the Staples Center.
Last week, Red Wings captain Henrik Zetterberg got on the young players for a lack of effort, urging them to play out a rebuilding season that will see them miss the Stanley Cup playoffs. The Red Wings are trying to find more balance and look to continue to try to find it tonight.
The Kings' late season acquisition of some character guys and speed has bolstered a team ready to rise back to the throne. Jeff Carter missed most of the season with an injury and has come back and produced at his expected clip. This game should be competitive with a motivated youth movement and a team clawing to get back to the playoffs.
Heres everything you need to know to watch the King at the Wings tonight.
Date: Thursday Mar. 15
Location: Staples Center
Time: 7 p.m. ET
TV: NBCSN
Live Stream: Fubo.tv
The Red Wings' line of Todd Bertuzzi, Henrik Zetterberg and Gustav Nyquist made up almost all of the offensive power on Monday night in a 5-3 loss to the San Jose Sharks. Look for Bertuzzi, who had three assists, and pesky Justin Abdelkader, who should be standing in front of Jonathan Quick all night to be the Red Wings' standouts.
The Kings are starting to look like the 2012 version of a team that won the Stanley Cup, refusing to go away and literally never being out of any game. On Tuesday, they fell behind the Arizona Coyotes 3-0 before coming back to tie the game late in the third period. They would eventually lose in a shootout, but did get the ever important point needed to continue their drive for the playoffs.
Next: Statistically Ranking Top 10 Forwards In NHL of this Generation
As for the Kings look for Center Jeff Carter to continue to be on fire after recording two goals Tuesday night.