NCAA Tournament 2018: 5 reasons Xavier won't win it all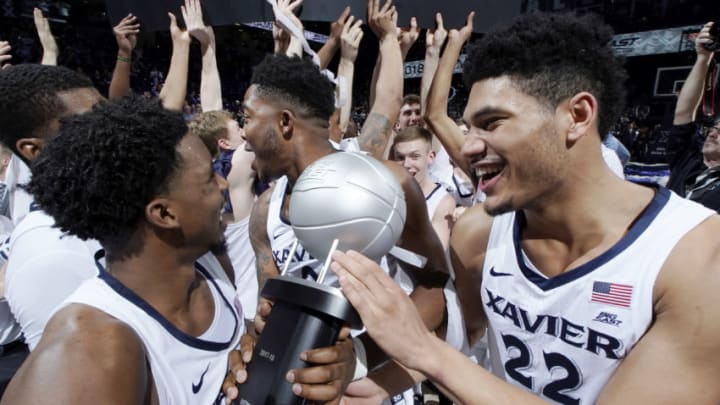 CINCINNATI, OH - FEBRUARY 28: Xavier Musketeers players celebrate after winning the Big East Conference regular season title with an 84-74 win over the Providence Friars at Cintas Center on February 28, 2018 in Cincinnati, Ohio. (Photo by Joe Robbins/Getty Images) /
GREENSBORO, NC – MARCH 16: (C) Austin Rivers #0 of the Duke Blue Devils reacts as he stands between Gabe Knutson #42 and B.J. Bailey #32 of the Lehigh Mountain Hawks in the second half during the second round of the 2012 NCAA Men's Basketball Tournament at Greensboro Coliseum on March 16, 2012 in Greensboro, North Carolina. (Photo by Streeter Lecka/Getty Images) /
3. History suggests Xavier won't advance very far
The Musketeers' statistical profile isn't exactly built for March success. High octane offenses paired with poor defenses can win national titles, but not when the defense is as bad as Xavier's has been. The site barttorvik.com features a useful tool that allows us to compare the resume of any 2017-18 team with teams from the last 10 seasons and their NCAA Tournament results.
It's not pretty for the Musketeers:
Source: barttorvik.com /
The most obvious thing that sticks out is the lack of success in the round column on the right hand side, but we'll come back to that in a minute. First, look at the seed column. Teams like Xavier typically don't earn No. 1 seeds in March because they lose too many games during the regular season. In a sense, the Musketeers were lucky, something we can confirm by looking at KenPom's luck statistics, which measures expected outcome versus actual outcome. Xavier was the ninth "luckiest" team in Division I this season.
Now, back to that round column. Only three of the Musketeers' comparables have been seeded on the top three seed lines. One of them, Oklahoma in 2009, made the Elite Eight. That team — led by future NBA All-Star Blake Griffin — had significantly better defensive fundamentals than this Xavier squad.
The other two No. 2 seeds lost in the first weekend. 2014 Kansas was stifled in the second round by Stanford and 2012 Duke was taken out by CJ McCollum and No. 15 Lehigh. If the Musketeers were anything other than a No. 1 seed, we might be talking about them as a first round upset candidate. But they are a No. 1 seed so we're not talking about them as a potential first round upset candidate
The second round, though, could be a different story.