NCAA Tournament 2018: 5 reasons Xavier won't win it all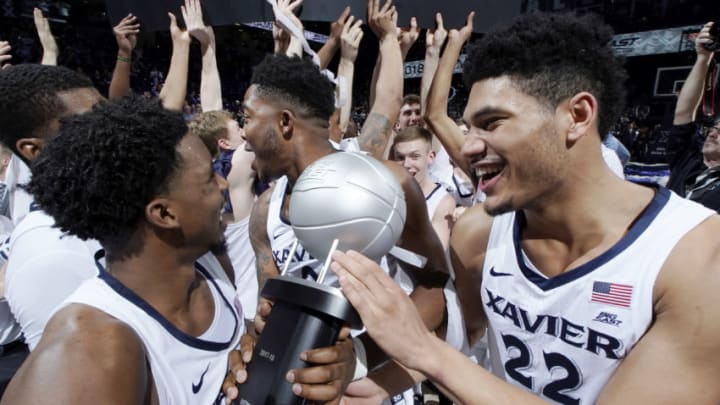 CINCINNATI, OH - FEBRUARY 28: Xavier Musketeers players celebrate after winning the Big East Conference regular season title with an 84-74 win over the Providence Friars at Cintas Center on February 28, 2018 in Cincinnati, Ohio. (Photo by Joe Robbins/Getty Images) /
1. There's a chance of meeting Villanova in the final
I don't mean to induce any Post Traumatic Stress Disorder in Xavier fans, but the most likely opponent for a title game is likely conference foe Villanova. The Wildcats are the NCAA Tournament's overall No. 2 seed and sit on the opposite side of the bracket lining up a potential Big East finale.
Here's the problem: Villanova owns Xavier. And not in "wins close games against them all the time" sort of way, but in a "we can be pretty sure these matchups are destined to be a blowout" sort of way.
The Musketeers have played the Wildcats 11 times since joining the Big East. They've won once. By seven points at home in 2016. The average margin of defeat for Xavier in the other 10 games? 18.4.
Eight. Teen. Point. Four.
When the Musketeers visited Philadelphia this season, Villanova hung 12 3-pointers and a 121.9 offensive rating on them in a 24-point blowout. In Cincinnati, it was 16 3s and a 131.9 offensive rating. Remember that defense we chatted about earlier? It hasn't stood a chance against the country's top offense.
Next: 5 NBA Draft sleepers in the NCAA Tournament
Now, Xavier fans can obviously take some solace in the fact that the likelihood of a Villanova-Xavier finale is quite low. There are any number of combinations of results that could lead the Musketeers to a different opponent in a title game should they themselves make it there.
The problem, of course, is what happens if the Wildcats are there, too. Because recent history suggests it won't be pretty.