Maple Leafs sign Mason Marchment to two-year, entry-level contract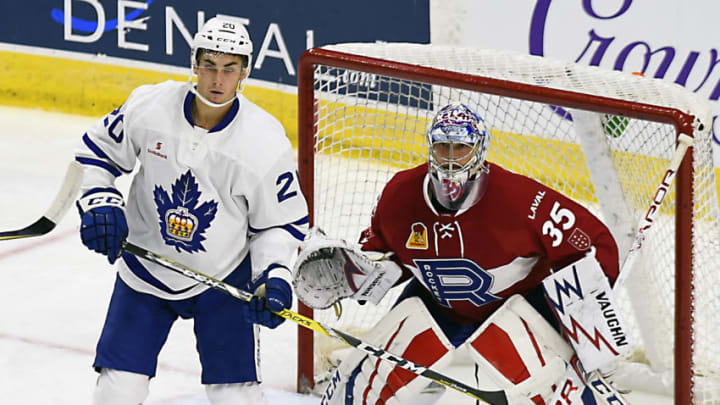 TORONTO, ON - OCTOBER 28: Mason Marchment /
The Toronto Maple Leafs have signed Mason Marchment (LW) to a two-year entry-level contract.
The Toronto Maple Leafs have announced the signing of left winger Mason Marchment, 23, to a two-year entry-level contract.
A product of one of the top prospect pools in the league, Marchment has put up impressive numbers in his time with the Toronto Marlies. Over the course of the 2017-18 season, he's played in 37 games in which he accumulated nine goals and 12 assists. He was even named the CCM/AHL Player of the Week for his admirable totals during the period that concluded on November 5, 2017.
In 2016-17, his time was divided between the Marlies (where he earned one goal in nine games) and the ECHL's Orlando Solar Bears (where he accumulated 14 goals and six assists in 35 games). As his career statistics show, he's managed to tally promising numbers across a range of leagues. Most relevant, of course, are his totals in the AHL, where he has 22 points in 49 career games.
The possibility of signing Marchment has been a subject of interest for quite some time. That the Leafs have opted to give him a chance could mean a number of things for next season.
It's a well-known fact that the Leafs have made a habit of utilizing their prospect pipeline to test the waters filling gaps in their lineup. Frédérik Gauthier, Kasperi Kapanen, Nikita Soshnikov, and Andreas Johnsson are some examples of this particular tendency. It's quite likely that Marchment is regarded by the administration as a player of this nature — one whose opportunity to make an impression could arrive when Mike Babcock feels that it's time to shake up the dynamic of the team.
But as the week draws to a close, a recurring question in Toronto continues to loom: What will become of James Van Riemsdyk in the summer?
If it's not just possible, but plausible that JVR is on his way to free agency in the near future, then the Leafs will undoubtedly be looking to add depth to the left wing. As such, the chances of Marchment — 6'4, 201 lbs — being perceived as an option increase substantially. Just ask Connor Brown or Zach Hyman — Babcock loves AHL players who log tough minutes in order to achieve their lifelong dreams.
Next: NHL Power Rankings: 30 Best LW of All-Time
Speculation aside, the fact remains that the Leafs are — and will likely continue to be — one of the NHL's top depth teams. Look to see Marchment sneak into the Leafs' ever-changing lineup in the not-so-distant future.