Auto Club 400: Live NASCAR highlights, updates from California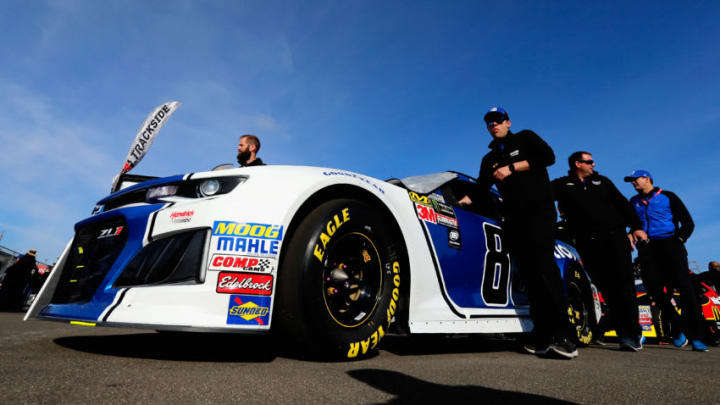 FONTANA, CA - MARCH 18: Crew members for the #88 Nationwide Chevrolet, driven by Alex Bowman (not pictured), push the car in the garage area prior to the Monster Energy NASCAR Cup Series Auto Club 400 at Auto Club Speedway on March 18, 2018 in Fontana, California. (Photo by Jonathan Ferrey/Getty Images) /
We keep you up to speed with the NASCAR Cup Series action from California in the Auto Club 400.
California, no doubt about it. It's the home state of Kevin Harvick, making it the perfect backdrop as he tries to go for four Monster Energy NASCAR Cup Series wins in a row at the Auto Club 400 in Fontana.
Can he pull it off? It's a feat that hasn't been pulled off for more than a decade, but his Stewart-Haas Racing Ford has been so fast all month that it wouldn't be wise to bet against him. All of the drivers starting in the top three on Sunday — Martin Truex Jr., Kyle Busch and defending race winner Kyle Larson — figure to have a shot at stopping him, but they'll have to hope the 4 team either slips a half-step or they find something they haven't hit on yet in 2018.
There's also some drama expected in the first stage, as a bunch of drivers who tend to start in the top 20 didn't even get on the track to make qualifying laps, and as a result will be starting 25th or worse. Even with the wide Fontana track, there could be some anxious moments early on as fast cars try to make their way forward and less speedy teams fade a bit once the green flag is in the air.
Before the race even started, Michael Waltrip got some extra star power on the FOX broadcast: Migos was in the house.
Truex got a good start when the race began and was able to clear Kyle Busch to lead the opening laps.
He couldn't hold onto that lead for even 20 laps, though, as Kyle Busch was able to catch and pass him without too much trouble. Kyle Larson was on his way toward the front, as was a certain number 4 …
But then, the most shocking possible thing happened given how this season has started: The first caution saw Harvick go hard into the wall after contact with Larson.
There's going to be a lot of conversation about that collision. In the meantime, Truex got out in front after the caution, and he was able to drive away from Kyle Busch to win the stage.
Stage 1 results
Martin Truex Jr., 10 points and one bonus playoff point
Kyle Busch, 9 points
Joey Logano, 8 points
Brad Keselowski, 7 points
Jimmie Johnson, 6 points
Kyle Larson, 5 points
Kurt Busch, 4 points
Erik Jones, 3 points
Clint Bowyer, 2 points
Denny Hamlin, 1 point
Joey Logano took the lead after the stage-ending yellow flag pit stops, and he was able to stay in front for a short time. Eventually, though, Truex ran him down and passed him to show the way again.
Stage 2 proceeded without incident until there were less than 15 laps to go. But the caution flag flew after Trevor Bayne made contact with Ryan Newman and hit the wall hard.
Remember last season when Truex was winning a big chunk of the stages? He might be back to that form, because he won both of the first two stages on Sunday.
Stage 2 results
Martin Truex Jr., 10 points plus one bonus playoff point
Brad Keselowski, 9 points
Kyle Busch, 8 points
Denny Hamlin, 7 points
Erik Jones, 6 points
Joey Logano, 5 points
Jimmie Johnson, 4 points
Kyle Larson, 3 points
Clint Bowyer, 2 points
William Byron, 1 point
An early caution in the final stage led to some interesting pit strategies. Almost everyone came in for tires even after running only three green flag laps, but William Byron was able to assume the lead after changing only right-side tires. It didn't work for long as Kyle Busch was able to race his way back to the lead. And Larson was coming up through the field quickly too.
Larson eventually got up to second, but he was nowhere near good enough to gain on Truex. The defending champ began his title defense in earnest by picking up his first victory of 2018, leaving only 10 cars on the lead lap in the process.
Be sure to bookmark this page and check back here throughout the afternoon for the latest from Auto Club Speedway.