An ode to the UMBC Retrievers, gone but never forgotten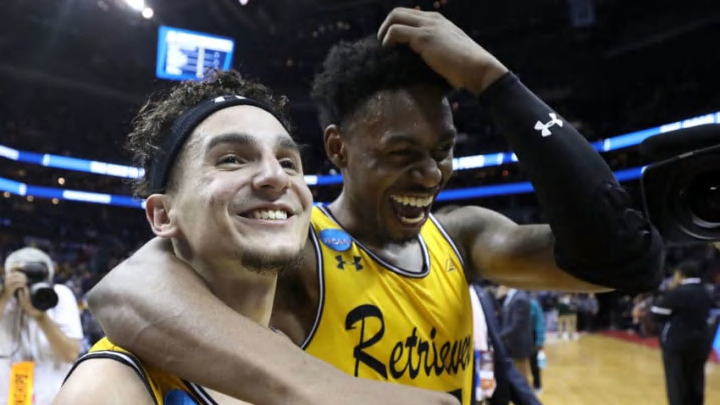 CHARLOTTE, NC - MARCH 16: K.J. Maura /
Our time together was brief, but we'll always remember the March Madness memories UMBC gave us.
A common cliche in sports is to say certain moments can't be scripted. This, despite the fact that one of the most famous moments in baseball history consisted of dead guys walking back into a cornfield after playing one final game together. These moments can very much be scripted.
UMBC went on a run that felt like every sports script ever written. The scrappy underdog takes down Goliath and along the way, we all become better friends and learn life lessons. That's the legacy of the Retrievers run through March Madness, and we'll never forget it.
The closest we came to what UMBC did was when Florida Gulf Coast went on a run to the Sweet Sixteen, but at least that made sense. FGCU was Dunk City, it had a variable that teams couldn't account for, even as bizarre as it was. The Eagles were a 15-seed that didn't play like one, the Retrievers played like a 16-seed.
UMBC's run will never make sense; the team's starting point guard is half the height of the competition and the team habitually made mistakes elite programs do not. Against Kansas State, the Retrievers couldn't get a bucket, didn't foul when they should have, and lost the game.
Somehow, they made it work. That was the dichotomy of the Retrievers, and we loved it.
Let's not sugarcoat this: UMBC blew the hinges off Virginia, which is part of what makes the upset so endearing to us. Not only did a 16-seed win a game it should never have, but it blew out vastly superior competition. Simulations before that game had UMBC losing 100 percent of the time — they pulled off what seemed mathematically and logically impossible. It was Sir Issac Newton falling up to the apple, not the other way around.
Rather than rest on history, UMBC turned Kansas State into a joke on national(ish) television. UMBC was basically The Joker in The Dark Knight, getting by with the uncanny ability to somehow drag high-profile basketball programs down into the mud with them.
At one point on Sunday, UMBC went over five minutes without a field goal and trailed by only one-point the entire time. With under two minutes to go, UMBC made it a one-possession game and then went full Keystone Cop to keep a loose ball from becoming a backcourt violation.
One part of that screams 16-seed while the other implies a team so scrappy that it can't help but put a smile on your face.
Perhaps that what was so endearing about them. Despite the everything suggesting it shouldn't work, for a fleeting moment, UMBC worked. There was no viral hashtag or some lucky charm fan to bring it all together — this was authentic, organic, and above all fun. A bunch of kids from Baltimore reached the pinnacle of their basketball careers and then reached a little further.
God bless you, UMBC. You were March at its absolute maddest and there's no way to properly pay that back.