Which NHL mascot would you want with you in a bar fight?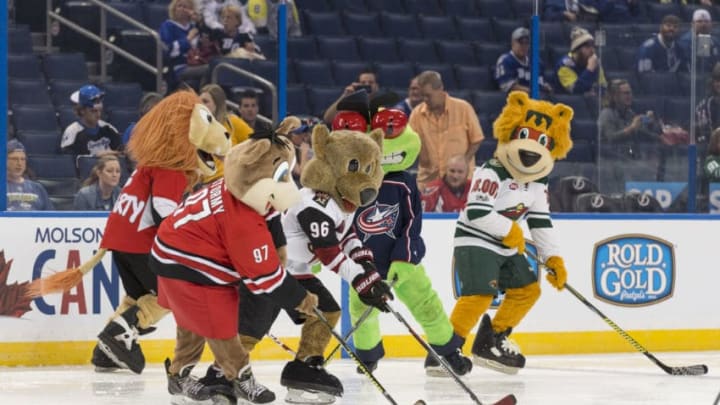 TAMPA, FL - JANUARY 28: Carolina Hurricanes' mascot Stormy avoids the stick-check by Arizona Coyotes' mascot Howler the Coyote during the mascot game prior to the NHL All-Star Game on January 28, 2018, at Amalie Arena in Tampa, FL. (Photo by Roy K. Miller/Icon Sportswire via Getty Images) /
VANCOUVER, BC – NOVEMBER 19: Vancouver Canucks mascot Fin Shoots the Duck as he skates before the NHL game between the Vancouver Canucks and the Chicago Blackhawks at Rogers Arena November 19, 2016 in Vancouver, British Columbia, Canada. (Photo by Jeff Vinnick/NHLI via Getty Images) /
18. Fin (Vancouver Canucks)
This orca is the official mascot of the Vancouver Canucks. He is often located at the Rogers Arena and aquariums. The majority of mascots are beloved by their team and city. However, there are always exceptions to the rule.
The forum on Canucks.com is a place where fans can express their feelings about the team they love and root for. It gives the fans a chance to interact with other fans throughout British Columbia and the world. A thread was created by fivethej called "Canucks Fans Want Fin Fired as Mascot". The page is filled with hate towards the Canucks' biggest fan. This could fuel Fin when he swims into trouble.
If Fin becomes obsessed with social media and develops a sizable chip on his shoulder, he would be an excellent whale to have your back in a bar fight. The more the Canucks fans hate on him, the more Fin would become agitated.
Fin is No. 18 on the list because he is more similar to Free Willy rather than a killer whale. The orca is too kind. The city of Vancouver consistently bangs on Fin, and yet he still shows up and supports the fans and the team.
The most famous killer whale in Canada will jump to No. 1 on the list if Sparky the Dragon starts a bar fight. The water from Fin's blowhole will neutralize the Islanders mascot's fire-breathing attack.