Which NHL mascot would you want with you in a bar fight?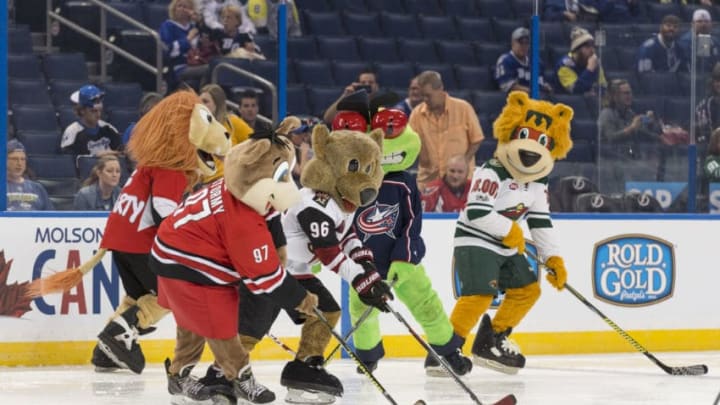 TAMPA, FL - JANUARY 28: Carolina Hurricanes' mascot Stormy avoids the stick-check by Arizona Coyotes' mascot Howler the Coyote during the mascot game prior to the NHL All-Star Game on January 28, 2018, at Amalie Arena in Tampa, FL. (Photo by Roy K. Miller/Icon Sportswire via Getty Images) /
TAMPA, FL – JANUARY 27: Mick E. Moose of the Winnipeg Jets attends the PreGame /
13. Mick E. Moose (Winnipeg Jets)
The Winnipeg Jets have quite the history. The franchise originally joined the National Hockey League in 1979. Financial problems forced the Jets to make a major change. After nearly two decades in the city of Winnipeg, the Jets flew south.
The Jets landed in Phoenix, Arizona. When the dust settled, the Winnipeg Jets were no more. A new franchise emerged from the desert and the Phoenix Coyotes were born. Now, the Arizona Coyotes have been around since the start of the 1996 season.
Meanwhile, there was something brewing in the city of Atlanta. The people of Atlanta have been starving for a some hockey ever since the Flames exited to Calgary. The NHL awarded the city a brand new franchise in 1997. Like the Flames, the Thrashers lacked success and fan support. History repeated itself when True North Sports and Entertainment purchased the Thrashers for $170 million. Atlanta lost another NHL team to the country of Canada. The Thrashers became extinct and the Jets were reborn in the city of Winnipeg.
The new Winnipeg Jets needed a mascot. They wanted someone with experience. The Jets weren't the only hockey team in Manitoba. Manitoba was the home of the Moose of the International Hockey League. The Moose have been a staple of Manitoba for decades. Mick E. Moose has been their mascot since he was three years old. After many years of service, the Jets acquired his rights when they reopened for business in 2011.
Mick E. Moose is extremely reliable. He is Manitoba to the core. He is very difficult to fight because he is listed as ambidextrous in his NHL.com bio. If you are right handed, try throwing a ball with your left hand. Imagine signing a check with your left hand. It's nearly impossible. Of course, you can practice it. Mick E. Moose has perfected it.